Alumni, Donors, & Friends
ULM Foundation & Alumni Relations
Greek Scholarship Challenge
The ULM Foundation is asking its Greek alums to make a tax deductible contribution towards the establishment of an Endowed Scholarship to benefit ULM students in their Greek organization.
The minimum amount needed to endow a scholarship for any Greek organization is $25,000. We need you to pledge $200.00 per year for 5 years! Any and all contributions will be appreciated!
Click on your Greek organization to participate in the Greek Scholarship Challenge!

 
 
 
 
 
 
 
 
 
 
 
 
 

---

Alpha
Kappa
Alpha
Alpha Omicron
Pi
Alpha
Phi Alpha
Delta
Sigma
Phi
Delta
Sigma
Theta
 Kappa
Alpha
Order
Kappa
Delta
Kappa
Sigma
Phi
Mu
Pi
Kappa Alpha
Sigma
Gamma
Rho
Zeta
Phi
Beta
Check out your Greek's endowment progress as compared to other Greek organizations to see who is ahead! Whichever organization raises the most money beyond the $25,000 between now and January 31, 2017 will receive a 1:1 match from the ULM Foundation up to $25,000 which would total a $75,000 scholarship endowment for your chapter!


Greek Scholarship Challenge
as of January 11, 2017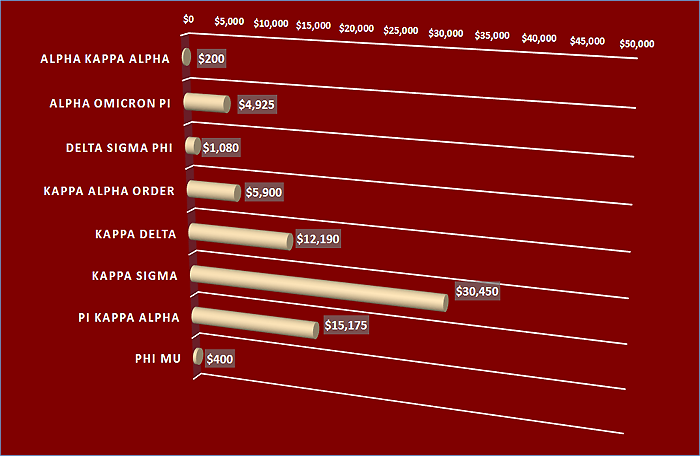 Your support and legacy will be greatly appreciated!
If you have any questions, please contact:
Morgan Leigh Patrick
Development Officer
318-342-5061
patrick@ulm.edu