ULM Campus & Community
Campus Housing and Facilities

Campus housing includes over 800 beds in apartments or suites, with nearly 1,100 beds in traditional residence halls. Applicants will receive housing applications after acceptance to the University.For more information about housing, visit the Residential Life Web site.
ULM has modern facilities which provide a great learning environment. The campus has 23 academic buildings. A Health and Counseling Center is available to students on campus.

The Student Union Building (SUB) is the hub of student activity on campus, with a food court, student lounges, and meeting rooms.
The ULM Warhawks play football in Malone Stadium; basketball in Fant-Ewing Coliseum, baseball in Warhawk Stadium, and has facilties for softball, soccer and tennis.
Students can use the Student Activity Center, participate in intramural sports teams and have access to other campus facilities.
---
About ULM and Monroe . . .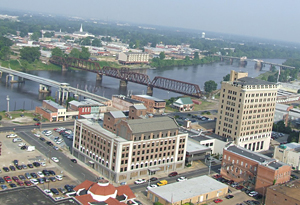 ULM is located in Monroe, Louisiana, USA, and is within two miles of Interstate 20, which allows for easy access to Jackson, Mississippi; Shreveport, Louisiana; and Dallas, Texas.
With an average annual temperature of 82º F (27º C) and a cost-of-living index well below the national average, Monroe and ULM is a wonderful area in which to pursue your studies.
Today, ULM claims more than 59,000 alumni and an annual enrollment of over 8,000 students.
ULM's campus, one of the state's most attractive, is located in the eastern part of Monroe, a city whose metropolitan area population exceeds 150,000. Combined with its sister city of West Monroe, the "Twin Cities" rest on the banks of the Ouachita River.
Together, these communities serve as a commercial, medical and cultural hub for all of northeast Louisiana. Beautiful Bayou DeSiard flows through ULM's 238-acre, tree-shaded campus and has been a major feature of the university since it was founded in 1931.