Scholarships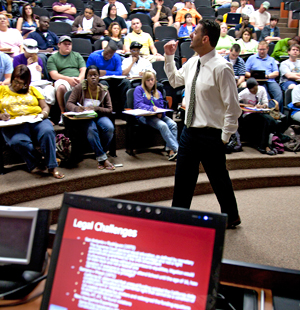 Academic Scholarships - By applying for admissions, you are automatically considered for a Warhawk Out-of-State Fee Waiver.
You must have a minimum 3.0 GPA on your school graduation certificate and a 980 SAT (ACT 21) if you are a freshman or a 2.5 GPA on your college transcript if you are a transfer.
If you qualify, you will be informed of the award once all transcripts have been reviewed. The amount of the award may vary based on scores and fund availability.
This waiver cannot be combined with other Out-of-State Fee Waivers." 
Honors Program - The Honors Program is open to all students, domestic and international, of all majors and offers various options within their specific degree. Honor students work closely with an impressive collection of Honors Faculty allowing students to explore topics in more depth. Honors scholarships are available.
The Honors Program is a small community of scholars within the university seeking to challenge themselves with new ideas, preferring to take smaller classes, and wanting to work beside and to live with similarly motivated students.
Honors students have a 100% admissions placement rate into graduate and professional schools.
Athletic Scholarships - ULM offers scholarships in American football, basketball, baseball, cross country, golf, track & field, women's soccer, women's tennis, volleyball, and water skiing.
Talent Scholarships - If you can read music, sing or play an instrument, you could audition for the ULM Choir, Band or Orchestra.
For complete information about all of the scholarships opportunities available to International Students, contact Iren Marinova at 1-318-342-1704 or marinova@ulm.edu.