Databases (journal, newspaper, and encyclopedia articles)
Many of the sources in our databases are available online in full text. To log in to the databases from off-campus, simply enter your username (CWID) and PIN (birth date in MMYY format) when prompted. The log in screen typically looks like this: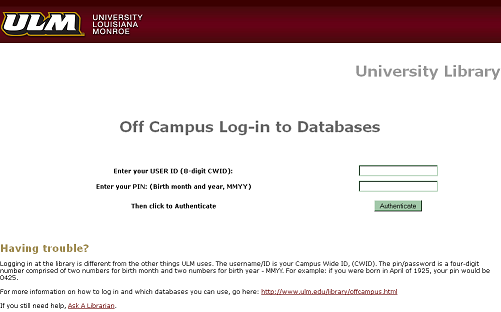 Databases that require accounts created on campus
For some accounts, you must create an account while on campus (residence halls not included). If you can not come to campus, we can create accounts for you. These include:

RIA Tax Services
LearningExpress Library
Databases that do not work off-campus
College Source Online (catalogs)
Free Resources
There are some free resources that we recommend:

Directory of Open Access Journals
Gutenberg.org
Louisiana Digital Library
USA.GOV


Reference help
If you need help searching the databases or anything else, you can give us a call at the Reference desk at (318) 342-1071, email us at reference@ulm.edu, or use our online Ask A Librarian form to send us a message.


General Troubleshooting
Are you unable to connect to our resources? Here are some things to consider:
Are you attempting access directly from the ULM website? Bookmarking a page in a database doesn't work the same way as most "internet" resources. In most of our databases, the link is just temporary and will not work the next time you access the same link. To ensure that this doesn't happen, try using a "permalink," "PURL," or just copy and paste the citation information.
What browser are you using? Every browser handles information differently. The most-used browsers often work well (i.e. Internet Explorer, Firefox, Safari). It is also important to use the latest version of your browser of choice.
Do you have cookies turned on/off? Cookies should be turned on.
What does the error page look like? If you can't describe your problem, try to copy the text of the page or press "print screen" on your keyboard (Windows users) and paste the image into an email to send to us.
Does your computer have security settings or firewall programs? Your computer might refuse to allow a connection. Check your browser and firewall settings.
Cannot Access your EBSCO Folder?
In April 2013 the Library got a new EZproxy server to improve off-campus access and fix some problems with EBSCO: EBSCO Folder accounts created on campus wouldn't work off-campus or vice versa. Now new folder accounts will work both on and off campus.

What if you made a folder account off-campus before then and can't access it? There are two ways to get your citations out.

The old off-campus EBSCO link and the new one lead to 2 different versions of EBSCOhost (which is why you can't reach your old account on or off campus). The easy way to tell the difference is to look at the upper right-hand corner when you are in EBSCO. If you see ULM's logo, that is correct. If you only see a LOUIS logo, that is the old link.



Option #1: Get the citations without a new folder

If you just want to get the citations but don't want a new folder account at this time, you can use the "Email," "Save as File," and "Export" option to save them somewhere else. Use the old "LOUIS" link to EBSCO and log into your account from off-campus (won't work on campus) to access your folder:
http://ezproxy.louislibraries.org:2048/login?url=http://search.epnet.com/login.asp?profile=web
Select the items you want to save, and look for these: