Publications
The Office of Public Information produces several publications, in both print and electronic format, throughout the year to keep faculty, staff, students, alumni and other constituents informed about what's happening at ULM. Several publications produced by the Office of Public Information include: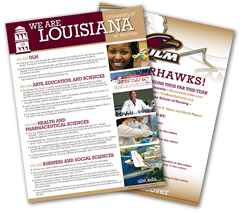 Accolades & Pride
ULM "flyers" featuring accolades and other points of pride. An easy way to inform others about the university.
We Are The University of Louisiana at Monroe .pdf
ULM Points of Pride, Recognition .pdf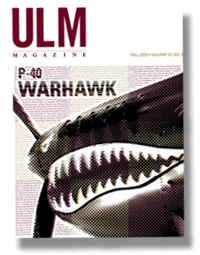 The ULM Magazine is the official magazine of the University of Louisiana at Monroe. The ULM Magazine features in-depth stories about ULM, its alumni, students and faculty, in a clean, modern format with outstanding color photography.
Included in each issue of the ULM Magazine is an alumni milestone feature called ClassNotes, with marriages, births, career advancements and other news. And of course, the ULM Magazine has campus and athletic news to keep you up-to-date on everything going on at ULM! 
Recent issues are available as a PDF at ulm.edu/ulmmagazine





The President's Report is the official publication of ULM President Nick J. Bruno, Ph.D. The President's Report encompasses the many ways the generosity and support of ULM's alumni, donor, and friends allows ULM students and faculty to discover their full potential.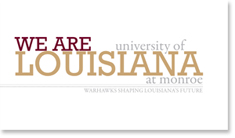 We Are Louisiana, We Are ULM! is a niche publication geared to inform state, regional, civic and business leaders about the broad impact ULM has on Louisiana - in economic development, community services and intellectual capital.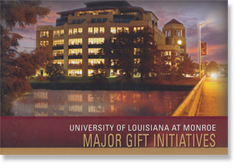 ULM's Major Gift Initiative, launched in 2012, was a year-long fundraising campaign to help fund long-term growth at the university.
This publication was produced in collaboration with the ULM Foundation to provide donors and supporters key information on ULM's strategic plan.