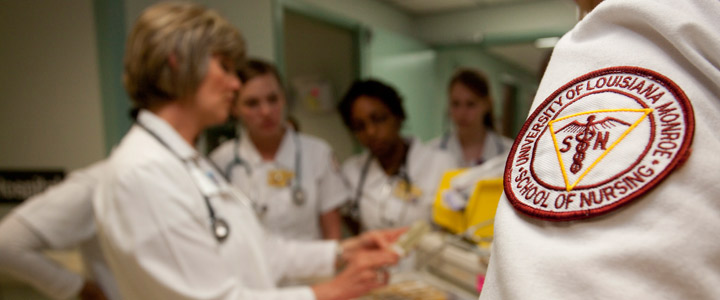 "The Institute of Medicine's Future of Nursing: Leading Change, Advancing Health Report calls for nurses to attain higher levels of education. As educators in nursing, we are called to provide a seamless progression for students to attain higher levels of education. The eULM RN to BSN program provides this opportunity for the diploma or AD nurse, while still maintaining the rigor and discipline for which the Kitty DeGree School of Nursing is known. As a faculty, I find it rewarding to help those in practice make the connections between practice, theory, and research applicable to the setting in which they work. These students bring to the table their experiences and expertise from being in the workforce and enrich the learning environment for both learner and faculty." - Dr. Wendy Bailes, Associate Director of Undergraduate Programs, College of Health & Pharmaceutical Sciences.
RN to Bachelor of Science in Nursing
Employment of registered nurses is projected to grow 19 percent from 2012 to 2022, according to the Bureau of Labor Statistics this is faster than the average for all occupations. Growth will occur for a number of reasons, including an increased emphasis on preventative care; growing rates of chronic conditions, such as diabetes and obesity; and demand for healthcare services from the baby boomer population, as they live longer and more active lives. Associate and diploma degree nurses can become RN when they pass the NCLEX-RN. They return to ULM to obtain their BSN so they can continue on their educational pursuit of a master's degree, to obtain a management position in their health care agency, and to gain the knowledge for practicing at the best of their ability. A BSN RN can go on to take a masters education and become a nurse educator, nurse practitioner, or a nurse anesthetist. Having a BSN RN allows the individual to have upward mobility in a growing and ever changing field. Having a BSN RN allows for multiple choices in the practitioner role: family, pediatrics, woman's health, acute care, etc.
Applicants for this degree must meet the following criteria:
Graduate from a state-approved and nationally accredited diploma or associate degree nursing program 

(CNEA, ACEN)

Currently hold an unencumbered unrestricted RN license to practice prior to admittance into the professional program
Have a minimum corrected, cumulative grade point average of 2.0 in all required pre-nursing courses (excluding grades earned in developmental education courses).
To find the curriculum for this degree please view degree plan.
For more information please contact Dr. Wendy Bailes.
Dr. Wendy Bailes
Associate Director of Undergraduate Programs
University of Louisiana at Monroe  
Kitty DeGree School of Nursing  
700 University Avenue  
Monroe, LA 71209-0460  
bailes@ulm.edu
Phone: (318) 342-1733  
Fax: (318) 342-1567
livechat