"Instructional technology in the classroom gives students the experience of much more visual literacy and practical learning than the traditional face-to-face arrangement." - Dr. Kioh Kim, Associate Professor Education, School of Education, College of Arts, Education, & Sciences 
Master Degree
Master of Education in Educational Technology Leadership (M.Ed.)
Program Admission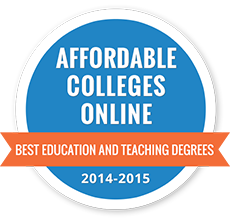 In addition to the University requirements for admission, applicants seeking admission into the Master of Education in Educational Leadership program must present a combined score of 1875 on a scale computed by multiplying the undergraduate grade point average by the combined Graduate Record Examination Test score (Verbal plus Quantitative) in order to qualify for "Regular Status." Students scoring between 1650 and 1875 (GRE X GPA) may be admitted on "Conditional Status."
Candidates for admission will be required to furnish additional information to the Department of Educational Leadership and Counseling. Requested material must be on file before the applicant can be reviewed for admission.
Program Requirements
A candidate for this degree and certification or alternative certification must have a minimum of 2.5 undergraduate GPA, complete the Graduate Record Examination (GRE) with an appropriate formula score and pass the state examinations where specified, and show instructional technology competency before admission to the program.
No teaching certificate is required.
For more information about this program please see the ULM Graduate School.