Advising
Student will be notified by OSPA when advisement will begin.
Student will schedule an appointment with their Advisor at a mutually agreed upon time.
Advisors should follow these steps:
Have student fill out "Contact Information Form" located on the OSPA website.
Log in to Flightpath.  Go to myULM and sign in as you do for campus email.  When logged in select Campus Systems tab, then select Flightpath.
Enter the students name or CWID in the box located in the top right corner.  A record of the student's progress appears.  Select the appropriate term with the link found on the maroon bar above the student's name.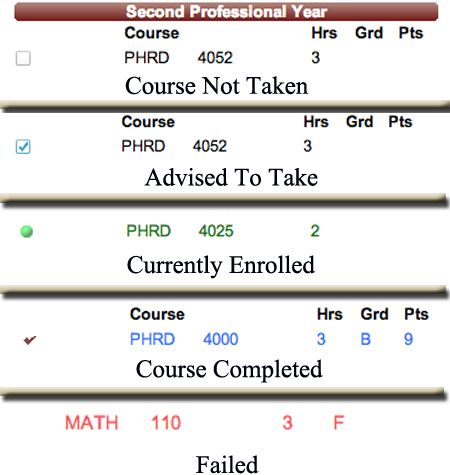 Choose courses  by clicking on the check boxes to the left of the courses, blue checks will appear.  If advising for multiple terms, select another term and continue.  When all courses have been selected, press the Submit button.  This takes you to the History page, where you can print an Advising Summary, which can be signed by advisor and student.
Click the Comments tab to record comments.  You may choose to make comments that are viewable by the student or viewable by faculty only.
If you need to make changes to the advising record, first set the term, and then click the check marks to unselect.  Choose other courses, then press Submit button.  A new Advising Summary will be created.
If you have any questions or problems with FlightPath, you may use the link at the bottom of the page (Noticed an error?  Have a suggestion?) to contact Angela Robinson.  Or call her at 342-5554, or email robinson@ulm.edu
Discus with the student how the current semester is going.  If some issue of concern comes up during the conversation that you are not comfortable discussing, please refer the student to the OSPA and email Mary Caldwell your concerns.
Sign the Contact Information Form in the Advisor Signature area.
Have the student bring the form to OSPA for flags to be lifted.