Accreditation Status
The University of Louisiana at Monroe College of Health and Pharmaceutical Sciences School's Doctor of Pharmacy program has been given the status of Accredited with Probation by the Accreditation Council for Pharmacy Education, 135 South LaSalle Street, Suite 4100, Chicago, IL 60603, 312/664-3575; FAX, 312/664-4652, web site www.acpe-accredit.org, for partial or non-compliance with the following standards: Standard No. 8: Organization and Governance; Standard No. 11: Interprofessional Education (IPE); Standard No. 18: Faculty and Staff—Quantitative Factors; and Standard No. 23: Financial Resources. For an explanation of the program's Accredited with Probation status, consult the Office of the Dean or ACPE. 
The accreditation status of the University of Louisiana at Monroe's School of Pharmacy was affirmed through June 30, 2022; however, the Accreditation Council for Pharmacy Education (ACPE) placed the School on probation on July 11, 2017 due to issues with four of the twenty-five standards. These standards address the organizational structure of our program, financial resources, quantity of faculty, and interprofessional education. 
Since notification of ACPE's decision, the following steps have been taken, many of which were in progress prior to receiving the notification:
A thorough assessment of the College and School's organizational structure.
A detailed description of the comprehensive interprofessional education plan.
A proforma budget covering the next five to seven years, which includes a plan to address faculty and staff salary compression.
A plan to strategically address open faculty positions. 
It's important to note that none of these standards are related to the curriculum or clinical rotations, the quality of our faculty, or progression rates, and that our status will next be considered by ACPE at their January 2018 meeting.
The University of Louisiana at Monroe is accredited by the Southern Association of Colleges and Schools (SACS), with the most recent re-affirmation occurring in 2009 for a 10-year term. For more information about SACS, please visit sacscoc.org.
On-time Graduation Rates
Graduation Year = 2017
Matriculation = 2013
Of the 103 students admitted in 2013, 93% will graduate with a Pharm D.

3 students were dismissed for academic reasons
1 student was dismissed for other reasons
3 students withdrew
The on-time (4 year) graduation rate is 78% for the entire admitted class.

Of the students who completed the program, 80/96 (83%) of students graduated on-time.
95/96 (99%) are scheduled to graduate within 5 years
96/96 (100%) are scheduled to graduate within 6 years
Graduation Year = 2016
Matriculation = 2012
Of the 93 students admitted in 2012, 97% will graduate with a Pharm D.

2 students were dismissed for academic reasons
1 student withdrew
The on-time (4 year) graduation rate is 87% for the entire admitted class.

Of the students who completed the program, 79/90 (87.7%) of students graduated on-time.
88/90 (97.7%) graduated within 5 years
90/90 (100%) are scheduled to graduate within 6 years
Graduation Year = 2015
Matriculation - 2011
Of the 98 students admitted 2011, 96% will graduate with a Pharm.D.

2 students withdrew for personal reasons
2 students were dismissed for academic reasons

The on-time (4 year) graduation rate is 71% for the entire admitted class.

Of the students who completed the program, 70/94 (74.4%) of students graduated on-time
88/94 (93.6%) graduated within 5 years
NAPLEX Pass rate for first-time takers
| | | |
| --- | --- | --- |
| Calendar Year | Number Candidates | Pass Rate |
| 2016 | 94 | 75.5% |
| 2015 | 82 | 89.0% |
| 2014 | 71 | 88.7% |
| 2013 | 41 | 92.7% |
| 2012 | 89 | 91.0% |
PCOA Results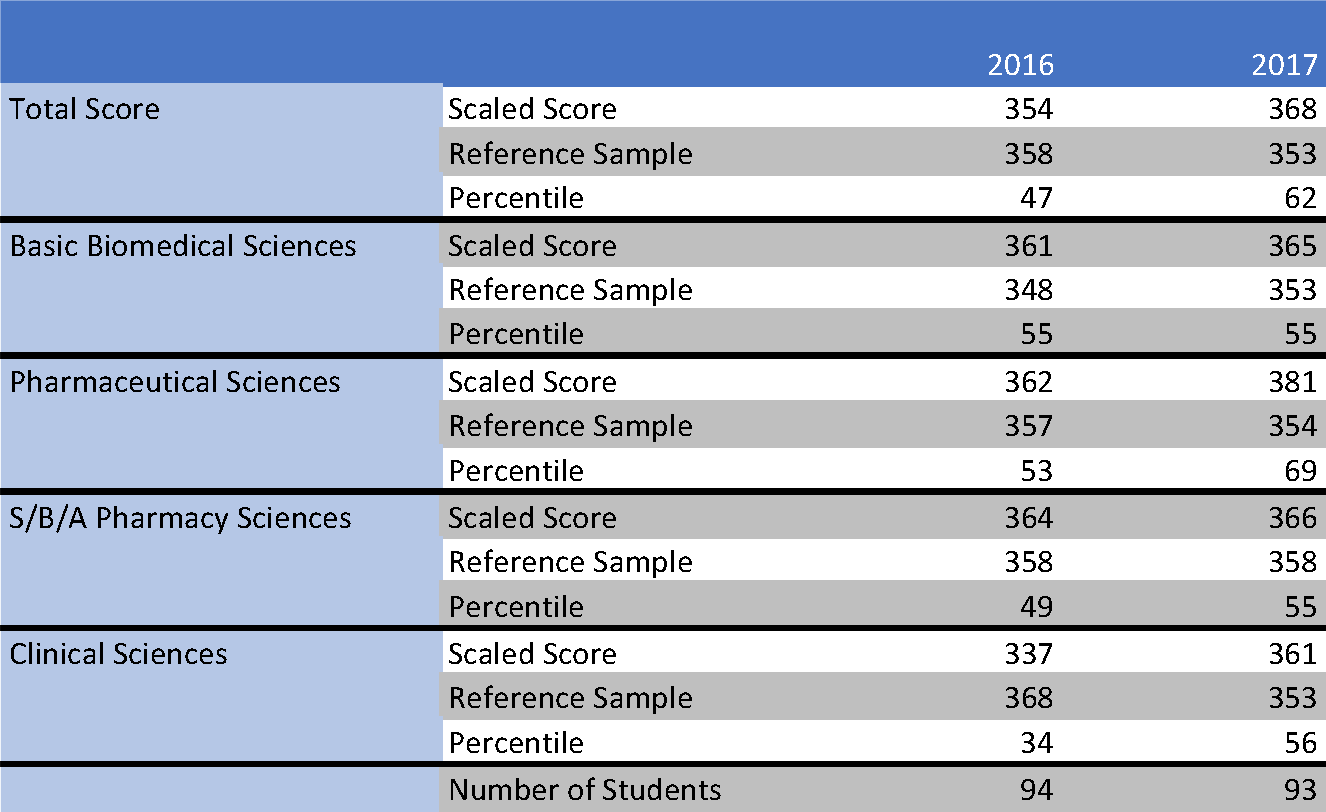 Practice settings post-graduation
| | | | | | |
| --- | --- | --- | --- | --- | --- |
| Graduation Year | % of Applicants to Match | PGY1 | PGY2 | Institutional | Community |
| 2017 | 80% | 14% | 2% | 100% |   |
| 2016 |   | 9% |   | 89% | 11% |
| 2015 |   | 14% | 2% |   |   |
| 2014 |   | 15% | 3% |   |   |
| 2013 |   | 17% |   |   |   |