ULM's 4th President - Dr. George T. Walker: 1958-1976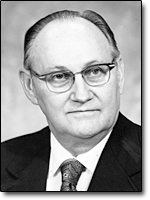 Dr. George T. Walker was born in Jonesboro, Louisiana, in 1913.
He earned a bachelors degree from Northwestern State University in 1935, a masters degree in accounting and business administration from LSU in 1936, and a Ph.D. in business administration from LSU in 1948.
From 1935 to 1940, Walker taught commerce at several universities in Louisiana, including the Northeast Center of LSU in Monroe. From 1945 to 1948, Walker served as assistant to the dean of the Junior Division, Louisiana State University.
In 1948, he was named dean of applied arts and sciences at Northwestern State College and was later named dean of administration.
He assumed the presidency of Northeast Louisiana State College in 1958 and began an era of tremendous growth in academics, enrollment, buildings and infrastructure.
In 1970, he oversaw the renaming of the institution to Northeast Louisiana University, its fifth name change since the institution's inception 1931.
Dr. Walker died June 19, 2011.