Thanks to everyone who attended this year's events!
-this site will be updated in the future
2015 Schedule of Events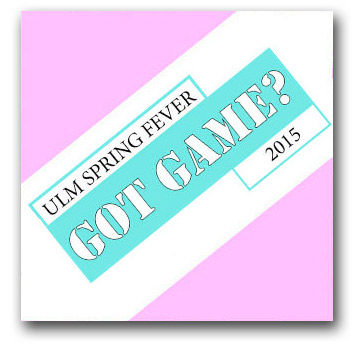 Sunday, April 19
Nepali Night
SUB Ballrooms
6PM - 9PM
$10 ticket
Monday, April 20
Free Lunch Social
featuring Crescent City Circus
Quad
11AM - 1PM
sponsored by Warhawks for Christ
Pikes for Pups
Quad
11AM - 1PM
Donations go to Ouachita Parish Animal Shelter
Inflatable Fun
Quad
11AM - 1PM
Sponsored by CAB
Crescent City Circus
Fant-Ewing Coliseum
7PM
Sponsored by CAB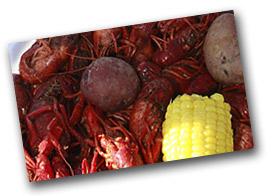 Tuesday, April 21
Free Lunch Social
Quad
11AM - 1PM
Sponsored by SGA
VAPA Outdoor Play
Quad
2PM
Sponsored by VAPA
ULM Ski Show
Bayou Desiard near Alumni Center
5PM
Zombie University: Movie Night
Wesley Foundation
6PM
Sponsored by Wesley Foundation
Glow Up Fitness Challenge
Bayou Park
Check- in 7 PM
Event 8 PM
$5 per student for a chance to win up to $250
Sponsored by Phi Epsilon Kappa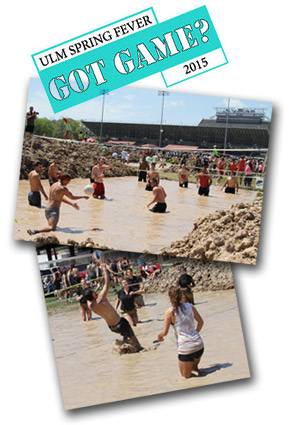 Wednesday, April 22
Free Lunch Social
Quad
11AM - 1PM
Sponsored by BCM
ULM's Got Game!
SUB Ballrooms
1PM - 4PM
Fun games for everyone to enjoy!
ULM Baseball Crawfish Boil
Baseball Student Section
6PM
Free with current ULM Student ID
Thursday, April 23
Free Lunch Social
Bayou Park
11AM - 1PM
Sponsored by CAB
Novelty Games and Fun
Bayou Park
11AM - 3PM
Sponsored by CAB
The Last Lecture
TBA
5:30 PM
Sponsored by Mortar Board
Movie Night: Jumanji
Bayou Park
8:30 PM
Movie and Free Snacks
Sponsored by CAB
Friday, April 24
Spring Fever Giveaway
Quad
9:30 AM - 11:30 AM
Oozeball
Behind Warhawk Field
12:00 PM
Registration Form at ulm.edu/alumni/oozeball.html
ULM Spring Fever Concert
Featuring Lee Brice, The Cadillac Three, and Chase Bryant
Fant-Ewing Coliseum
7PM - Doors open at 6 PM
Tickets available online at http://www.ulm.edu/springconcert
Saturday, April 25
Up til Dawn 5K: Mustache Dash
ULM Campus
7:30 PM Registration form available at ulm.edu/studentlife