Cheerleaders
The ULM Cheerleaders consists of 4 to 6 co-ed couples and 16 to 20 on All-Girl. They cheer at all football games, home basketball games and pep rallies.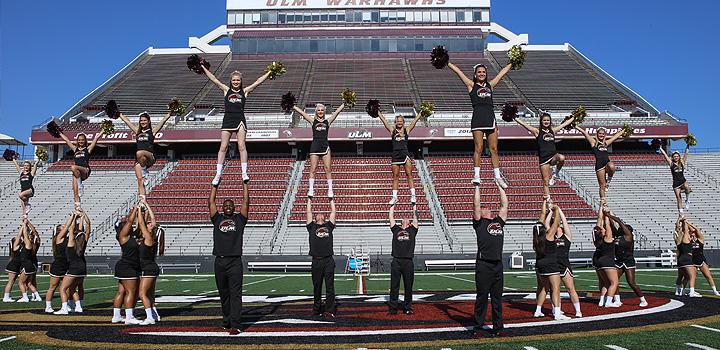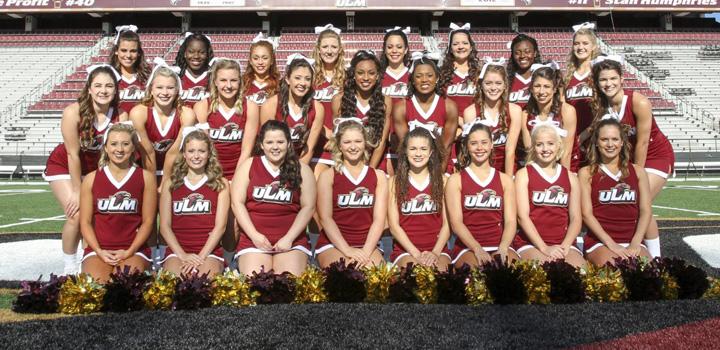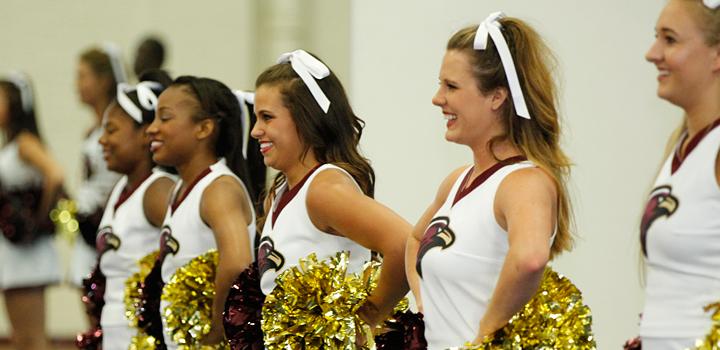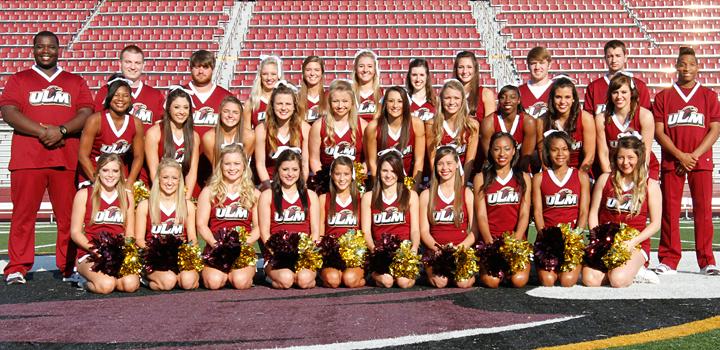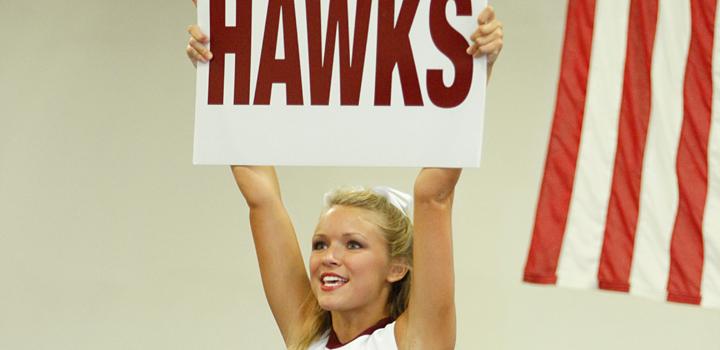 Tryout info will also be
posted on Facebook
TRYOUT INFORMATION
Open practice will begin to all who are planning to tryout for the 2017-2018 cheer team, starting on February 6th from 7pm - 9pm. All practices after this date will remain OPEN every Monday and Wednesday until the day of tryouts on April 27th! So anyone interested, GUY or GIRL come out and get to know our team and show us your Skills, and/or learn some new ones!!
Spring Tryouts
Requirements for Try Outs:
CHEER EXPERIENCE IS STRONGLY ENCOURAGED!!!
 
Incoming freshman ARE eligible to tryout


Current and Transfer students with a minimum 2.5 GPA are eligible to tryout


Current ULM students must be enrolled full-time (12 hours) to be eligible to tryout


Tryout packet must be submitted before tryouts


A $20 Fee must be submitted with your tryout packet, or before auditions begin


A signed waiver (signed by a parent if participant is not 18 years old).


Although you may not be admitted to the University at the time, of your audition, you must show proof of admission (student ID or admission letter) to attend the summer camps and remain on the team.


There isn't an official point system. The Spirit Group staff and Cheer coach will make the final team selection.


A current photo must be submitted with your try out packet.


You are evaluated on how much cheer experience and potential that you have to become a cheerleader as well as what you bring to our squad as a whole.
Try Outs

Try Outs will be held in Brown Gym. Participants must bring $20 cash, proof of insurance, a signed waiver (signed by parent if participant is under 18 years old) and a tryout packet.
For more information, contact:
Sean Menefee
Coordinator of Spirit Groups
Student Activity Ctr 247
(318) 342-5292
Requirements to be a ULM Cheerleader:
All Squad Members:
Must be currently enrolled or accepted at ULM.
Must be a full-time student, enrolled in 12 credit hours for undergraduate or 9 credit hours graduate level word.
Must maintain a cumulative GPA of 2.5 or above
Must be willing to establish and maintain high academic and social standards
Must have health insurance
Women
Tumbling: Standing back handspring, Standing tuck, standing back hand spring tuck, round off –BHS-tuck. (Higher level tumbling ability is preferred.)
Stunt: Toss Extension, Toss Liberty, Toss Stretch – full down, full up Liberty – full down (these are MINIMUM requirements –advanced stunt experience preferred)
Men
Tumbling: Standing back tuck preferred but not required
Stunt: Co-Ed stunting experience preferred
All members receive a $500 - $1,000 scholarship per semester with out-of-state fee waivers offered.
The co-ed and all girl squads combine to make the nationals team. In 2015 the ULM Nationals Squad placed fourth in the Small CoEd D1 Division at UCA Collegiate Nationals in Orlando, Florida!
2015 - 4th place
2014 - 9th place
2013 - 9th place
2012 - 10th place
2010 - 6th Place
2009 - 4th Place
2008 - National Champions
2007 - 3rd Place
2006 - 2nd Place
2005 - National Champions
2004 - National Champions