Hawkline
The ULM Hawkline consists of up to 18 dancers. This number may fluctuate from year to year given the needs of the team.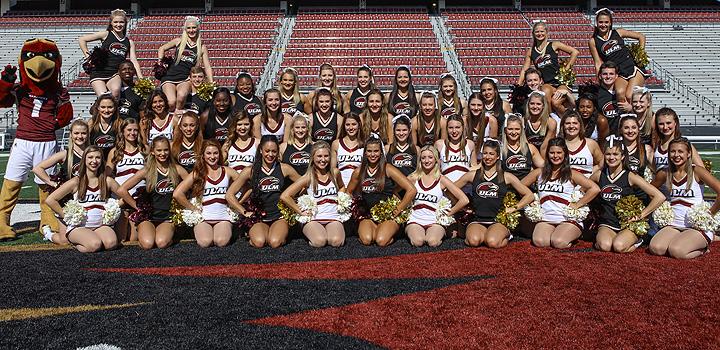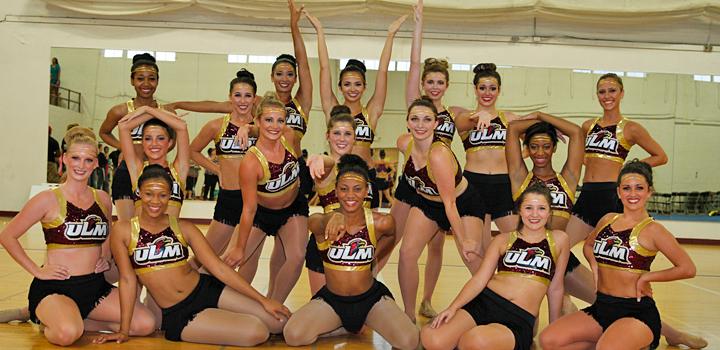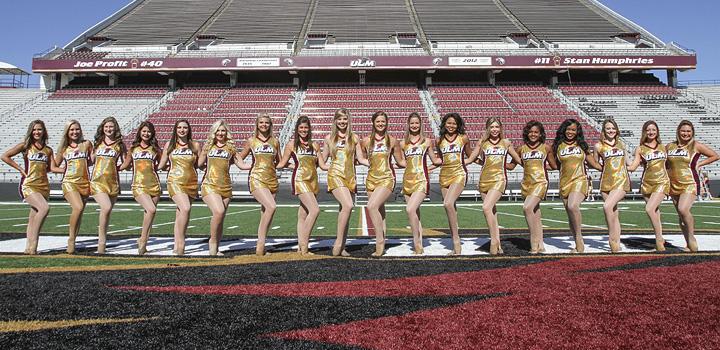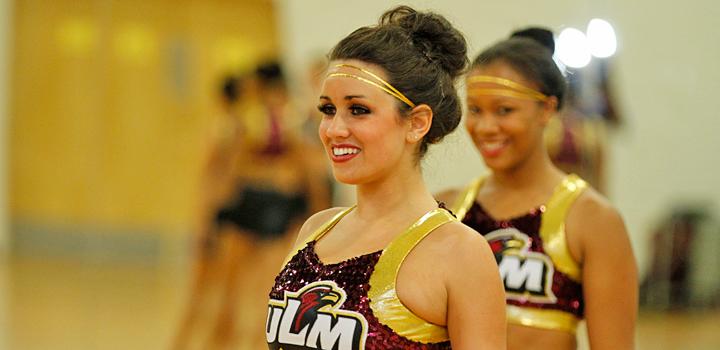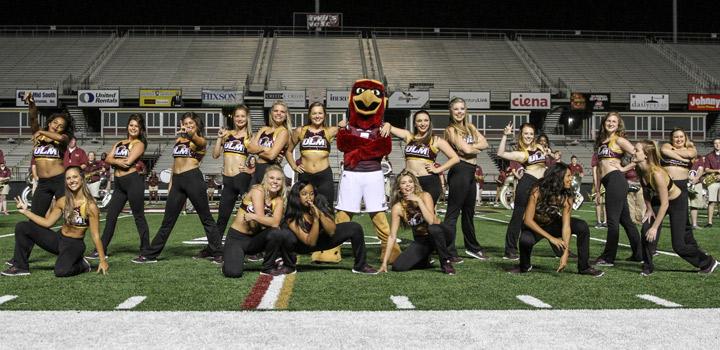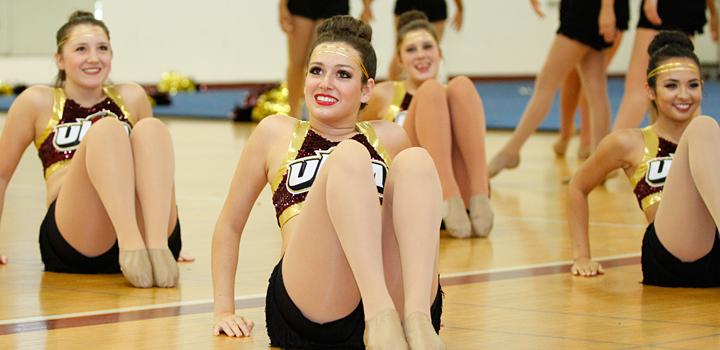 Tryout info will also be
posted on Facebook
The ULM Hawkline is a traditional kick team during football season and a pom squad during the spring semester. We also perform jazz, hip-hop and other styles of dance throughout the year for certain functions. Hawkline performs on-campus at many events such as the Miss Ulm Pageant, football games, basketball games, some baseball games, Christmas at ULM, and pep-rallies as well as special appearances throughout the community.
Hawkline practices up to 4 times a week to learn and perfect choreography. They represent the Warhawks and the ULM community at appearances and performances throughout the year.
TRYOUT INFORMATION
Spring Tryouts
2017-2018 HAWKLINE TRYOUTS APRIL 29, 2017 (Tryout Packet DOCX - now available!)


Spirit Groups Waiver (docx)


DANCE EXPERIENCE IS STRONGLY ENCOURAGED!!!


Incoming freshman ARE eligible to tryout


Current and Transfer students with a minimum 2.5 GPA are eligible to tryout


Current ULM students must be enrolled full-time (12 hours) to be eligible to tryout


Tryout packet must be submitted before auditions.


A signed waiver (signed by a parent if participant is not 18 years old).


A $20 Fee must be submitted with your tryout packet, or before auditions begin.


A current photo must be submitted with your tryout packet.


Although you may not be admitted to the University at the time, of your audition, you must show proof of admission (student ID or admission letter) to attend the summer camps and remain on the team.


There isn't an official point system. The Spirit Group staff and Hawkline coach will make the final team selection.


You are evaluated on how much dance experience and potential that you have to become a collegiate dance team member and to contribute to our style of dance as well as building our program.
TRY OUT DAYS
Please arrive no later than 10 minutes early for the clinics. Audition day, please arrive at 30 minutes early for check-in
(INFORMATIONAL MEETING and CLINICS ARE NOT MANDATORY. PLEASE NOTE, THOUGH, THAT THE DANCERS THAT DO ATTEND ARE AT AN ADVANTAGE.)
OPEN CLINIC DATES
Saturday

   (4pm - 6pm)

Tuesday

    (6pm - 8pm)

4/1/17
4/4/17
4/8/17
4/11/17
4/15/17
4/18/17
4/22/17
 
For more information, contact:
Sean Menefee
Coordinator of Spirit Groups
Student Activity Ctr 247
(318) 342-5292
NOTE: ALL AUDITION CLINICS & AUDITIONS ARE CLOSED TO THE PUBLIC!!!
Auditions:
Where: Brown Gymnasium on ULM's campus
Audition Skills
In order to make the team you must be able to properly execute the following technical elements correctly:
High Kicks across the floor
Leap (right and left)
Center leap/ Leap in second (right)
Reverse Jete
Double and Triple Pirouette (right)
Fouettes (second turns)turn combination (right)
Calypso
Splits (right and left)
The first cut will be made after technique
The Second Cut will be made
Learn Hip-Hop dance/combo
Learn Traditional Fight Song
The Third Cut may be made
After the 3rd cut, there MAY be call-backs (if needed)
There will be a short meeting with the coach and new team shortly after try outs. 
Video Auditions
We do not accept video auditions. If you cannot be at the actual audition day, you can use one of the dance clinics as your official audition. If none of those dates work, you may set up a separate audition time with the coach. 
Attire for Audition Clinics
Audition attire is not mandatory, but is highly recommended.
Any dance top (crop tops are encouraged)
Black dance shorts or jazz pants
Black or nude jazz shoes
Bring sweatpants and tennis shoes for hip hop
Audition hair and makeup
Attire for Auditions
All dancers must wear the following:
Any color dance crop top… NO bras or sports bras!
            (Rhinestones, a touch of color, or personal style is encouraged.
Dance tops can be found at Discountdance.com or ktrna.com
Black dance hot shorts
Nude tights
Jazz shoes (black or nude)
Bring black sweatpants and tennis/hip-hop shoes (for hip-hop)
Dancers MUST wear make-up with your hair styled, game day ready. Check Hawkline's Facebook page for references 
            (NO buns or pony tails)