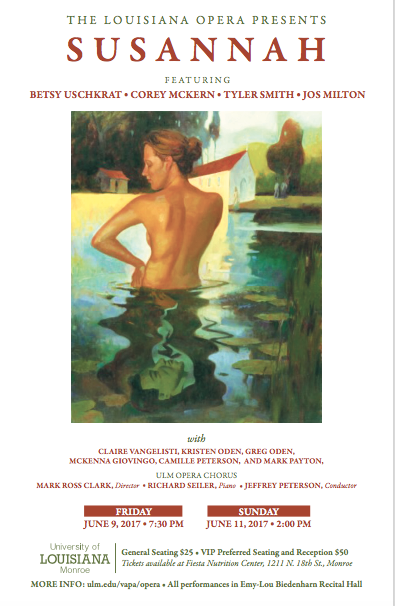 The American musical theatre masterpiece SUSANNAH by Carlisle Floyd, presented by the Louisiana Opera comes to Monroe for the first time ever for two performances on June 9 at 7:30 p.m. and a matinee on Sunday, June 11 at 2:00 p.m. in the Emy-Lou Biedenharn Recital Hall on the University of Louisiana-Monroe campus.
Guest performers are Betsy Uschkrat, Corey McKern, Tyler Smith, and Jos Milton. Also featured are Claire Vangelisti, Kristen Oden, McKenna Giovingo, Camille Peterson, Mark Payton, Matthew James, and Greg Oden, as well as the ULM Opera Chorus.
The story is set in a small remote town in the Tennessee Mountains.  Susannah is criticized because of her family background, and she hopes and dreams for acceptance by her neighbors, and eventually would like to leave to see something of the world.  However, her dreams are crushed by a traveling preacher, who takes advantage of her as the church elders blame her for sins that are not her fault.  Written by Carlisle Floyd, the intense dramatic plot is enhanced by music colored by the folk music flavors of the smoky mountains.
Susannah will be directed by Mark Ross Clark, and conducted by guest Jeffrey Peterson. Richard Seiler is the pianist.
Tickets are $25 general admission, and choice reserved VIP tickets, which include a reception with the artists are $50 per ticket.
Tickets are available at the Fiesta Nutrition Center, 1211 N. 18th Street in Monroe, or online: ulm.edu/vapa/opera
For more information, call 342-3247