Upcoming events
THE LOUISIANA OPERA PRESENTS: "AN EVENING OF OPERA, OPERETTA, AND MUSICAL THEATER."
Solo arias and songs, duets and ensembles from opera and operetta favorites as well as musical theater classics from Les Miz, Man of la Mancha, Chess, and other popular favorites. Performing these classic pieces from the stage are exciting singing actors from Louisiana, Texas, and Mississippi. Star operatic tenor Allan Glassman from the Metropolitan Opera in New York City will sing, surrounded by some great talent, all sung outside at the picturesque Landry Vineyards on Tuesday, May 13.  Admission is $10, and includes the show and snacks. Wine and beverages are on sale at the Vineyard. The doors open at 5:30 p.m., and the show will begin at 7:00 p.m. on Tuesday, May 13.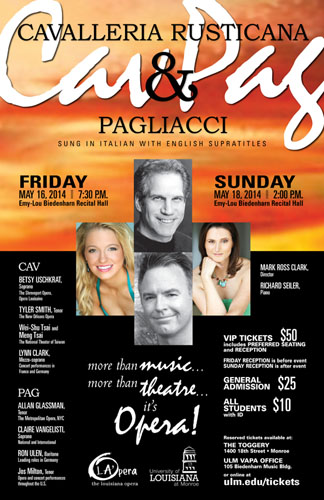 View Cav&Pag poster [pdf]
Opera Receptions
There will be two receptions offered before and after the performances of Cavalleria Rusticana and Pagliacci   (Cav & Pag) on Friday, May 16 and Sunday, May 18.
On opening night, the reception for VIP ticket holders is in the Sculpture Garden behind the Biedenharn Music building next to Recital Hall.  There will be Italian delicacies and wine and espresso at 6:00 p.m., along with an entertaining and lively introduction to the operas the audience will hear at 7:30 p.m.
Mark Ross Clark will also introduce the singers to the VIPs, and the audience will meet these exciting singing actors talk about the roles they will sing. On closing night, those with VIP tickets will meet the singers at a reception following the 2:00 p.m. performance.  There will be food and drink as we meet the casts of the two opera.