Welcome to the Health Studies Program at ULM
Our innovative Bachelor of Science in Health Studies (BSHS) at ULM covers a broad range of healthcare topics and helps students develop a variety of business management skills necessary to succeed in today's workplace. Health Studies graduates can pursue non-clinical positions such as managerial jobs that involve coordinating, supervising, and training others or advanced education in business or health professional school.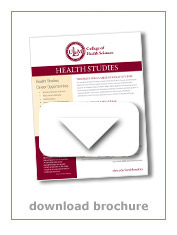 This program begins with two years of guided liberal arts courses including humanities, mathematics and sciences. Health Studies students study a variety of health study courses the final two years.
The Health Studies Online Program offers the Healthcare Marketing/Management option in an accelerated format, available through the ULM Online program.  Both on-campus and online curricula are very similar; however, all Health Studies courses in the online program are offered in an 8-week accelerated system.  The online accelerated method provides limited disruption to a student's life while maintaining efficient, high quality education.
The Health Studies program also offers personal attention, multidisciplinary learning, practicum, close ties to a major teaching hospital, and cutting-edge education relevant to healthcare. You will find a supportive and friendly faculty in the Health Studies department who are eager to help you succeed in your studies and healthcare career.
The Health Studies faculty encourage you to visit us and the Health Studies department. Feel free to make an appointment to learn more about the requirements for progressing to your senior year as a Health Studies student.  We look forward to hearing from you soon!
Health Studies Career Opportunities
Director of Human Resources
Public Health Specialist
Quality Analyst
Patient Accounts Representative
Community Health Educator
Director of Marketing and Quality Management
Office Manager
Director of Quality Assurance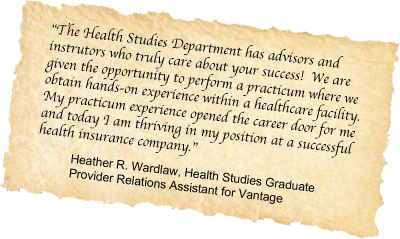 Graduate Programs that Health Studies majors have pursued

Occupational Therapy Masters & Doctorate
Doctorate of Physical Therapy
Physician Assistant
Optometry School
Medical School
Public Health Administration
Business Administration
Healthcare Administration
Gerontology
Counseling
News & Bulletins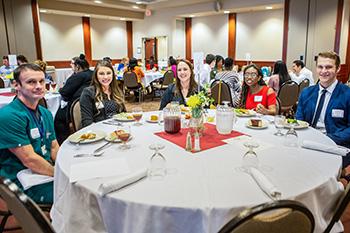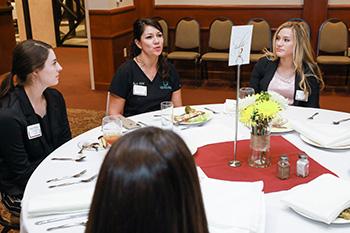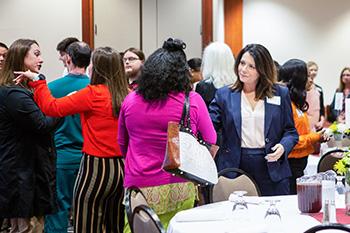 2019 CHS Professional Luncheon
175 College of Health Science Students and local community leaders took part in the College of Health Sciences Spring 2019 Professional Business Luncheon held at the ULM library 7th floor.  Six different Health Science programs took part in the event: Radiologic Technology, Dental Hygiene, Speech-Language Pathology, Health Studies, Occupational Therapy Assistant and Medical Laboratory Science. The goal of this event was to enhance students' communication and networking skills as well as to learn more about workplace expectations from these leaders.
Health Studies Department Provided Parent Training
The Health Studies department provided a parent training session for the Louisiana Baptist Children's Home on healthy eating and nutrition for families.  Twenty five parents attended with their children ages birth to 6 years of age.  The Health Studies Student Association designed and implemented fun, engaging activities for the children while the parents received valuable training from the Health Studies faculty.
Important Dates & Info
---
Practicum II:
Fall Deadline: This form must be submitted by October 1 in order for the student to register for Practicum II (HLST 4003) for the Spring semester.

Spring Deadline: This form must be submitted by March 1 in order for the student to register for Practicum II (HLST 4003) for the Fall and Summer semester.

Practicum/Class fee: There is a $250.00 for the Practicum II, this fee is in addition to regular semester class fees.
GRE:
Warhawks Email Address: All email communication with ULM must occur using your ULM email account (username@warhawks.ulm.edu). If a student does not use their ULM email account, the email message may not be received. Also, Moodle and other ULM system are programmed to send information only to your warhawks.ulm.edu email account.