College of Business & Social Sciences
School of Construction Management
Sigma Lambda Chi
The fundamental purpose of Sigma Lambda Chi is to provide recognition to outstanding students in construction curricula. Sigma Lambda Chi is the society that offers students the opportunity to be recognized locally and internationally for their academic accomplishments.
Any student who is enrolled in a construction education program or an allied field is considered a prospective member of Sigma Lambda Chi, and may be installed as an Active Member by the local Chapter provided that such student has attained the following:
Completed the equivalent of two academic years of study toward a degree;
Obtained an overall scholastic average in the upper twenty percent of his or her incoming class;
Studied at the present institution for the preceding six months;
Participated in one or more extracurricular activities;
Demonstrated leadership, character, and personality traits which give promise of reflecting credit upon Sigma Lambda Chi;
Worked in some phase of construction or its allied fields; and
Received an affirmative vote by secret ballot of three-fourths of the Chapter's Active Members, quorum required.
Fall 2012 Officers
President: Sarah Bonner
Vice-President: Cody Knox
Pledge Trainer: Jonathan Lipsey
Faculty Advisor: Dr. Bobby Ensminger
Society Emblem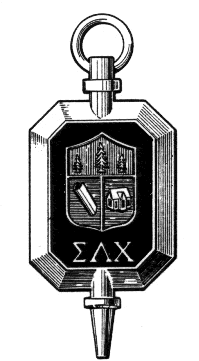 The trees in the overriding top portion of the crest represent the supply of natural resources that are available to us as constructors. The plans in the lower left portion of the crest represent the high level of research and planning that we as constructors must apply and maintain in our operations. The building in the lower right portion of the crest represents the homes and all engineered facilities and services that result from our efforts as constructors.