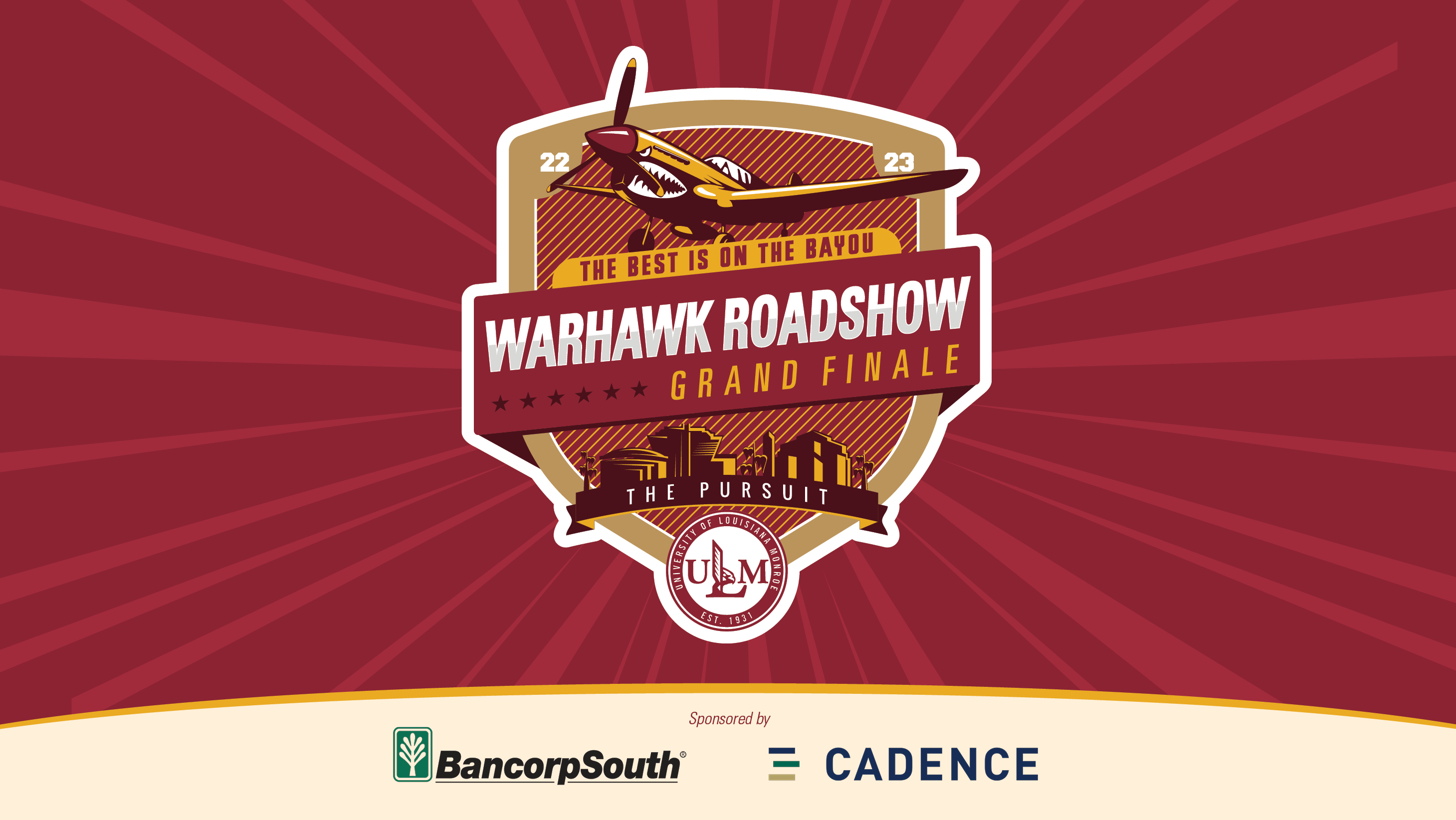 Thursday, August 4, 2022
Bayou Pointe Event Center
5:00-6:00 p.m.: Premier Reception 
(available to individual Premier ticket holders & tables of 8)
Pre-event reception and opportunity to meet Coach Bowden and his entire coaching staff.
6:15-7 p.m.: Dinner 
 7-8 p.m.: Program
Program highlights include comments from Dr. Berry, Athletic Director Scott McDonald and Coach Bowden.
Tables of 8 - $1000
Premier Tickets - $125
Patrons, who purchase tables or individual Premier tickets, will have an opportunity to meet Coach Bowden and his entire coaching staff at the Premier pre-event reception from 5:00-6:00 p.m.


General Admission - $75
ULM Faculty/Staff - $50
(discount code for ULM Faculty/Staff in your email)
ALL PROCEEDS FROM THE PURSUIT BENEFIT THE WARHAWK ATHLETIC FOUNDATION 
We would like to thank the following sponsors for their continued support of the
ULM Warhawk Club, the ULM Foundation, and the University of Louisiana Monroe. 

The Pursuit takes its name from the "P" in the Curtiss P(ursuit)-40 Warhawk fighter plane, best remembered as the aircraft flown during WWII by the "Flying Tigers," or American Volunteer Group (AVG), led by General Claire Lee Chennault.
The P-40 Warhawk, identified by its shark teeth nose art, was no match for enemy aircraft. But Chennault trained his pilots with innovative air combat tactics. As a result of Chennault's determination and aviation expertise, the P-40 Warhawk's victories in the sky were many. In fact, the volunteer pilots never lost a single battle. The legend of the Flying Tigers was born, and General Chennault became a hero in China and around the world.
It was the P-40 Warhawk and the heroism of General Chennault that served as the inspiration behind the selection of the Warhawk mascot ten years ago. The Warhawk is more than a name, however. It is a symbol of ULM's overall vision and mission.
Through its name, The Pursuit is meant to reflect our tradition and our commitment to pursue excellence. In the words of General Chennault himself, "When an old, well-known road is blocked, a new path must be opened."
As a new event that brings us together, The Pursuit symbolizes a new path our institution has adopted; a path that marks the beginning of an academic and athletic year; a path that guides us through the year and prepares us for what's coming; a path that orients us toward a successful and sustainable future.
There is power in individuals, but the power is even greater in individuals coming together as one. The P-40 Warhawk might not have been the best aircraft of its era, but the pilots who flew them understood the necessity of coming together for their mission. United, these fighters were unbeatable.
When struck by natural disasters in the recent past, our community became united. We showed our true strength, potential and capabilities. We showed solidarity with our comrades. We moved fast, and we moved forward in the pursuit of our moral obligations.
Now, it's time to stand together once again and celebrate the excellence through our own mission and vision.