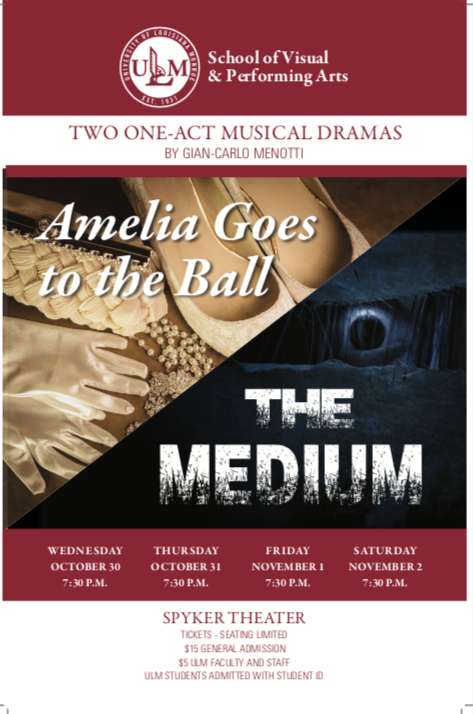 Halloween is a fun holiday, and it is scary.  To match the season, and the mood, the Visual and Performing Arts are presenting two fantastic one act music-dramas by Gian-Carlo Menotti, The Medium and Amelia Goes to the Ball, in the ULM Spyker Theatre on October 30, 31 and November 1 and 2, at 7:30 pm.
The Medium, is a frightening and realistic view of a woman, Madame Flora, in crisis.  She performs séances for parents who have lost their sons and daughters in youth or infancy.  They are staged with the help of her daughter Monica, and a young man, Toby, who has been taken in out of pity, since he is unable to speak.  You will be surprised, shocked, and amazed by the twists and turns in this drama, driven by the masterful Menotti score and text.
Amelia goes to the Ball is a completely different style.  It is a crazy comedy with broad characterizations and silly situations.  It is fantastical and bizarre in its own way, with an ending you did not see coming.
Leading roles are double cast, with Leah Huber, Morgan Meyer, Matthew Stewart, Jarryd Gutierrez, Gavin Huval, Davonzell Moncrief, Ryan Kersh, Morgan Rowland, Hannah Parker, Allison Newton, Hanna Atsedewoin, with Rachal Bouriaque, Leslie Hobgood, Irina Polunova, Judith Anders, Gabe Wright, and Preston Anderson.  Also cast are Hope Wells,  Madison Hernandez, Breanna Gottschalck, and Timothy Butler.
Ticket availability is limited, as there are only 152 seats in the Spyker Theater.  Admission is free to ULM students, and $15 for general admission. Faculty and staff are $5.  Tickets are available in the VAPA office, Biedenharn 105, or at the door.