College of Arts, Education, & Sciences
VAPA | Dance
Chi Tau Epsilon Dance Honor Society
Lambda Chapter
 We are accepting new applicants for the Spring Semester!!!
Contact Lacey Lombardo or Melissa Snelling for an application.
 Deadline is Thursday, February 13, 2015.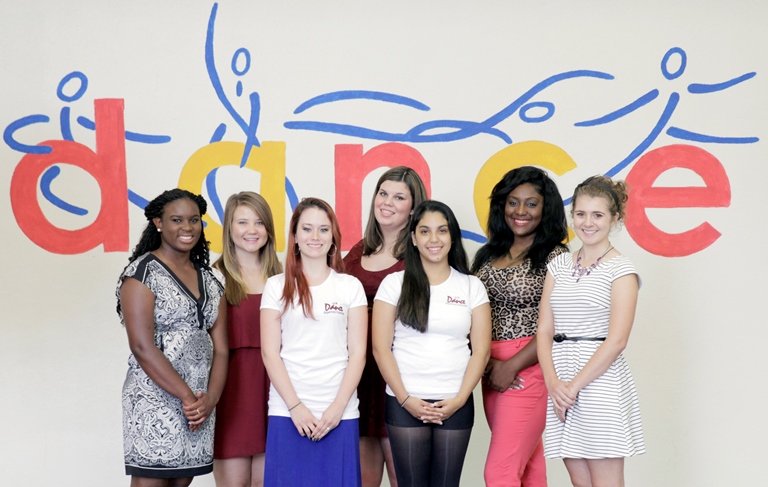 2014-2015 Chi Tau Epsilon members
photo by RJ Brown

Chi Tau Epsilon (XTE) is a dance honor society which develops dance talent, the art of dancing, honors outstanding students in the field of dance and provides those students with the opportunity for further service in the field. Additionally, Chi Tau Epsilon will recognize the superior ability of performing and creative artists in dance at the University of Louisiana at Monroe (ULM) while promoting artistic activity and scholarly achievement in the field of dance. The Lambda Chapter of XTE was established by the Dance Department at the University of Louisiana at Monroe (ULM) in Spring 2012.
Chi Tau Epsilon was founded in 1967 at Texas Christian University's School of Classical and Contemporary Dance. There are 10 other active chapters at this time with 3 of those in Lousiana: University of Louisiana at Lafayette, Grambling State University and ULM. With the establishment of the Lambda Chapter, it is the Dance Department's desire to continue to unite forces among various dance programs in higher education in order to recognize and promote excellence, knowledge and investment in the field of dance.

Qualifications: a full-time undergraduate or graduate ULM student, 2.5 cumulative GPA and a passion for dance. Chapter meetings occur once a month.  Speak to a member for more information!




   crest design by Rachel Barnes
News!!!
Couples Masterclass
Saturday, February 7, 2015
10a-11a Brown Annex, studio 120
Free; donations are appreciated
Partner not needed!
Waltz and Tango will be taught!
Executive Committee
President              Lacey Lombardo
Vice-President       Melissa Snelling
Secretary              Mikal Jeffcoat
Treasurer              Lacy Falke
Public Relations,    
Historian, 
Outreach               Mikal Jeffcoat
                                                 
Parliamentarian      Claire Olin