College of Arts, Education, & Sciences
VAPA | Dance
Auditions for Rep Ensemble is Saturday, November 11, 2017. 
See details below for further information.
Fall Fusion Concert is Friday, November 17, 2017.
Free to current ULM students, faculty and staff.
$5 general admission. Free for children under 12.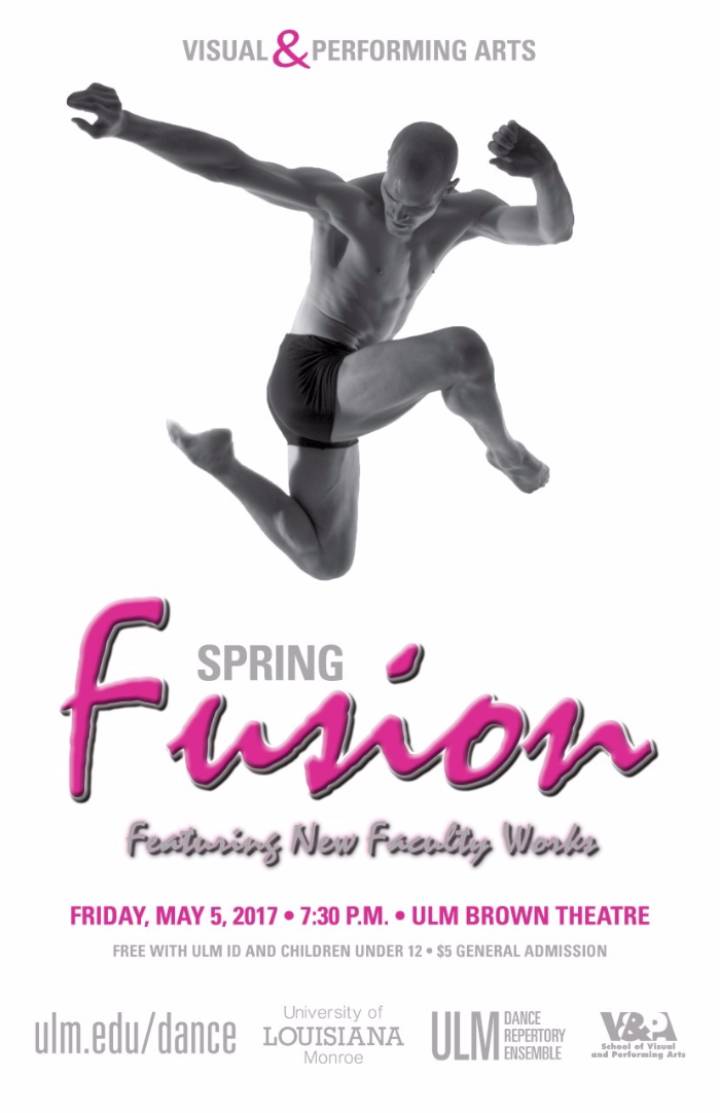 The mission of the ULM Dance Repertory Ensemble is to develop art, artists, and an audience for all forms of dance through education, creative experiences, and performances.  Performances include but are not limited to: the departmental
Fusion Dance Concerts
; University musicals and operas; and VAPA sponsored programs as well as University events. Students are selected to the program by a bi-yearly audition process.  Involvement allows students to develop skills in choreographic design, dance style, movement quality and musicality, all under performance conditions.  Works, choreographed by faculty, guest artists and students, in the primary concert dance forms of ballet, modern, jazz, and tap are produced, allowing for a diverse and moving performance season.



Pippin, this spring's musical, featured members of the
ULM Dance Repertory Ensemble, March 23-26, 2017.


ULM Repertory Dance Ensemble auditions for Spring 2018 participation:
Saturday, November 11, 2017  10a-12p
Brown Annex, Studios 120 & 122
ULM Campus
Doors will open at 9:30 a.m.
No prepared audition is required.  Please be prepared to audition in all styles: ballet, modern dance, jazz and tap.  Participation in the audition will also put you in consideration for a Talent Grant Award.  There are limited positions in the Repertory Dance Ensemble as well as Talent Grants. Please sign-up for the audition in the ULM Dance Department, Brown Annex, rooms 116 or 114. 
For more information, please contact: Robin Stephens, stephens@ulm.edu; Tina Mullone, mullone@ulm.edu; Gretchen Jones, gjones@ulm.edu.