College Health & Pharmaceutical Sciences
Kitty DeGree School of Nursing
Welcome to the Kitty DeGree School of Nursing
The ULM Kitty DeGree School of Nursing has a long history of excellence.  The School was founded in 1960 and graduated the first class of baccalaureate nurses in 1964. We will soon celebrate 50 years of program success. Baccalaureate nursing graduates at ULM receive a broad based general educational foundation inclusive of history, English, science, and arts.  Graduates also receive education in all aspects of nursing care and are prepared to work in a variety of health care environments. 
The United States is in the midst of a nursing shortage that is expected to intensify as baby boomers age and the need for health care grows.  This fact makes choosing a career in nursing a good employment decision.  ULM baccalaureate nursing programs are accredited by the Commission on Collegiate Nursing Education (CCNE) and the Louisiana State Board of Nursing. 
Nursing students at ULM have the opportunity of meeting new people and experiencing nursing in a variety of clinical setting.  Students have clinical in hospital and community care settings. They are supervised by experienced faculty who love to teach and love the profession of nursing. 
Consider joining the ULM Nursing family and experience the excitement of learning and EXCELLENCE first hand.
Curriculum Plans & Information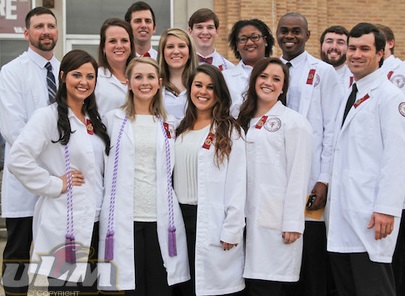 Application Process


Application for Admission to the Professional Nursing Program
All prerequisite coursework, as detailed in the undergraduate catalog, must be completed by the end of the semester in which application is made.  Minimum GPA requirement must be met and all students must be advised prior to application.
Application Deadlines:
Completed applications must be submitted to the Nursing office, room 124 Kitty DeGree Hall, by 4:30 pm on the first Monday of February for Fall Semester admission and the second Monday of September for Spring Semester admission. Application fee receipt and receipt for the Admission Exam must accompany the application.
Additional Resources
Prospective ULM Students - Information regarding the university, application process, campus tours & more