ULM BIOLOGICAL STATION
Dr. Charles Allen Nature Preserve
Background
The Dr. Charles Allen Nature Preserve is an 80 acre outdoor classroom located in the rolling Ouachita Hills Region near Columbia, Louisiana, about 30 miles from the campus of ULM.
The property was donated to ULM in the year 2000 by Dr. Harry Winters in honor of Dr. Charles Allen, a former ULM professor and accomplished botonist in Louisiana. Over the years, Dr. Winters and Dr. Allen have co-authored several books on the plants of Louisiana and the Gulf South, but CABS is arguably one of their greatest contributions to the state. Efforts are currently underway to make CABS more accessible to ULM students and faculty and develop a master plan for the property. In the future, we hope to make CABS a premiere site for researchers through the state and region.
2014 ULM BioBlitz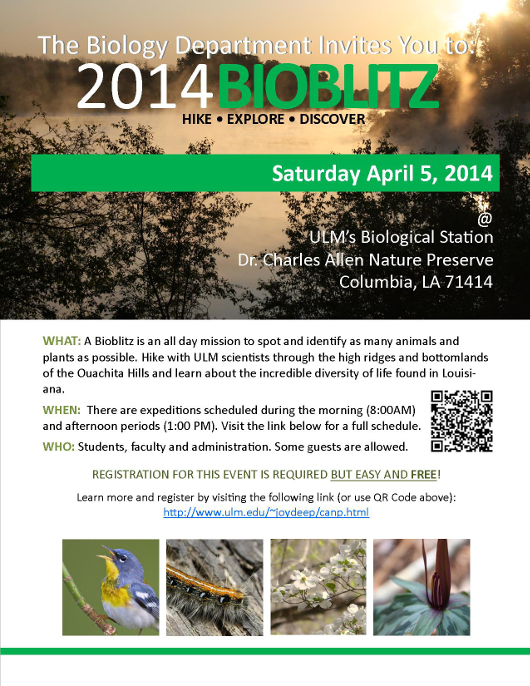 On April 5, 2014, ULM biology students and faculty will lead hikes through the rolling Ouachita Hills near Columbia, LA. Led primarily by students the event is meant to showcase the Biology Department's outdoor classroom, the Charles Allen Biological Station. During this all-day event, ULM participants can expect to hike through high ridges and bottomlands on a mission to spot and identify as many life forms as possible: birds, plants, reptiles, amphibians, mammals, butterflies and more!
REGISTRATION LINK
Click
HERE
to register for the 2014 BioBlitz!
GOALS
• Discover, learn about and document the biological diversity of the Charles Allen Biological Station
• Interpret the natural history of the many organisms encountered to broader ULM community
• Provide an opportunity for non-science and science majors alike to appreciate the natural world and interact with scientists
• To bring together faculty and students in a shared experiential learning environment
• Educate attendees on the importance of biodiversity in Louisiana
SCHEDULE
8:00 – 10:00 Early Bird Hike (Biota of focus: Birds but everything else included)
10:30 – 1:00 Welcome newcomers, lunch, explore resource table, meet the biology department, look at live specimens, tally up morning counts, explore the property
1:00 -3:00 Concurrent Hikes
Nature Hike 1: (Biota of focus: Reptiles, amphibians, mammal tracks and signs but anything goes!
Nature Hike 2: (Biota of focus: Insects, plants, fungi, birds but anything goes!)
3:30 – 4:30 Tally Up and Check Out displays
4:30 – Final taxa count announcement, thank you and goodbye