Dr. Shalanda Stanley, Assistant Professor, School of Education, College of Arts, Education & Sciences.
Bachelor of Science in Elementary Education
The Department of Curriculum, Instruction and Leadership is dedicated to preparing exemplary teachers through undergraduate academic degree programs in areas of Elementary Education. Our program is accredited by the National Council for the Accreditation of Teacher Education (NCATE) and the Southern Association of Colleges and Schools Commission on Colleges (SACSCOC). The program is designed to enhance professional educators to facilitate learning. The curriculum reflects a carefully planned interaction among five components: general studies (classes common to all undergraduate programs), professional and pedagogical studies (classes in instruction of teaching methods), content studies (classes in Mathematics, Science, Social Studies, etc.), Integrative Studies, and clinical and field experiences (student teaching).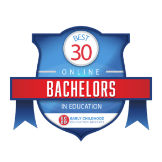 According to the Bureau of Labor Statistics, employment of elementary school teachers is projected to grow 12 % from 2012 to 2022. This growth is expected due to projected increases in enrollment as well as declines in student–teacher ratios. 
If you have previous college experience and are interested in the Elementary Education major and would like to know what credits may transfer please ask about our unofficial transcript evaluations.
To find the curriculum for this degree please view degree plan. 
NOTE: Transfer students must have completed a college-level English and a college-level Mathematics course, designed to fulfill general education requirements, with a grade of "C" or higher in both.