College of Business & Social Sciences
Risk Management & Insurance
ULM RMI Society/Gamma Iota Sigma
---
 SPRING 2018 MEETINGS: 
Date
Company
February 5th       
BMS Re, Dallas, TX: 6:30 PM
March 5th

Bankers Financial, St. Petersburg, FL: 5:30 PM

Field House Social, Immediately Following

April 9th
Heartland Security Insurance Group, Tyler, TX: Time TBA
---

   Gamma Iota Sigma (GIS) is the International Risk
   Management, Insurance and Actuarial Science Collegiate
   Fraternity. The University of Louisiana at Monroe
   founded its chapter of GIS in 2002 and since then, it
   has also operated as the Risk Management and
   Insurance or RMI Society.
GIS is designed to foster the study of risk management and insurance in universities; to encourage scholarship, social activities, and the association of students for their mutual advancement by research and practice; to promote closer affiliation between the risk management and insurance industry and students of risk management and insurance; and to further a high standard of ethics at universities and in the industry.
Some of the specific benefits of membership in ULM's Gamma Iota Sigma include:
Participation in the student mentorship program (partially funded by the Richter's memorial fund)
Eligibilty to attend GIS and other professional conferences and meetings
Opportunities to gain valuable leadership experience
Invitations to special events associated with the Risk and Insurance Talent Search (e.g. lunch, receptions, socials)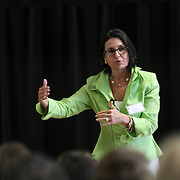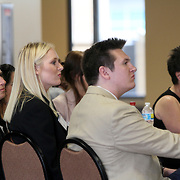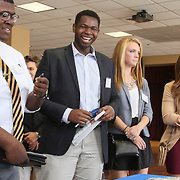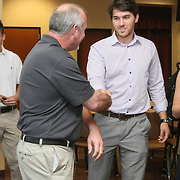 Spring 2018 Gamma Iota Sigma Officer Executive Committee:
President: Drake McEachern
Secretary: Anna Yakaboski
VP Internal: Jerry Ehlers
VP External: Skylar Derouen
Treasurer: Karyn O'Koyeze
Spring 2018 Committee Chairs

Social Media Chair

Jordan Shelton

Public Relations Co-Chair

Summer Ho

Public Relations Co-Chair

CJ Nash

Social Networking Events Chair

Hunter Henson

Freshman Engagement Co-Chair

Joey Walker

Freshman Engagement Co-Chair

Haley Raynes

Community Service Chair

Hailey Milton
Membership and Meetings
All Risk Management majors and minors are invited to become members of Gamma Iota Sigma.  In order to maintain membership in ULM's RMI Society, a student must:
Be in good academic standing

Enrolled in the current or upcoming term, and;

Pay dues* of $40 in your first year and $30 for every year thereafter.
* Dues are shared between the local and national chapter.
GIS hosts a variety of speakers from the risk management and insurance industry including Association Presidents, company and broker Executive Vice Presidents, surplus lines branch managers, Chief Actuaries and many more. Risk management and insurance industry professionals are invited to speak regarding their field of expertise in the business and about opportunities and preparation for careers in the RMI industry.