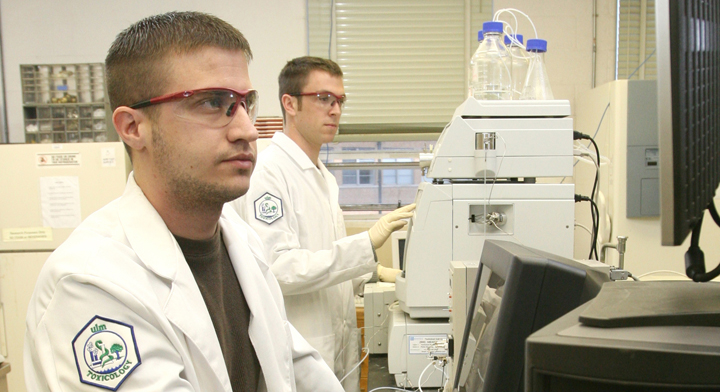 "The mission of the Department of Toxicology is to provide instruction in toxicology of the highest quality that is appropriate for students at the undergraduate, graduate, professional and postgraduate levels and to advance biomedical knowledge, particularly in toxicology, through active participation in high quality research and other scholarly activities consistent with the needs of the School of Pharmacy and the University of Louisiana at Monroe."
Toxicology is the study of harmful effects of chemicals on people, animals and other living organisms. Most of the good life we have is because we use chemicals properly, including medicines, pesticides and cleaning products. Misunderstanding what chemicals can do sometimes leads to over-exposure and poisoning or, conversely, unnecessary anxiety and fear of chemicals that are relatively harmless when used properly. Toxicologists are the scientists who help decide how much is too much of a good thing.
The University of Louisiana at Monroe Toxicology Program was the first of its kind in the South and is currently one of only six nationally. The Toxicology Program is administered by the Department of Toxicology within the School of Pharmacy. The Toxicology curriculum consists of a four-year program designed to include a solid foundation in basic sciences, a broad background in Toxicology with several specialized courses and sufficient non-science courses to provide the student with a well-rounded education. The Toxicology coursework spans the field of clinical, environmental, and industrial toxicology. Within the field of Industrial Toxicology, special emphasis is given to Industrial Hygiene theory and practice.
For Information on Toxicology
---
Dr. Kevin Baer
Department Head
Waste Management Endowed Professor of Toxicology
700 University Ave.
Monroe, LA 71209
Phone: 318-342-1698
Fax: 318-342-1606
Email: baer@ulm.edu
For Information on the Graduate Program
---
Dr. Paul W. Sylvester
Director of Research and Graduate Studies
School of Pharmacy
University of Louisiana at Monroe
1800 Bienville Dr.
Monroe, LA  71201
Phone:  318-342-1958
Fax:  318-342-1737
Email:  sylvester@ulm.edu