College Health & Pharmaceutical Sciences
Speech-Language Pathology
Kitty DeGree Speech and Hearing Center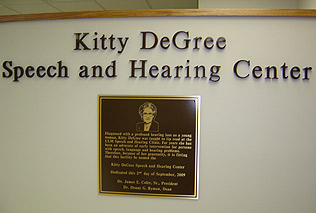 The University of Louisiana at Monroe Speech and Hearing Clinic evaluates and treats individuals of all ages who experience communication problems. Currently located in Sugar Hall, the clinic is an integral part of the Department of Speech-Language Pathology and the College of Health Sciences. Clients may be self-referred or referred by physicians, family members, allied health professionals, or hospital/school personnel.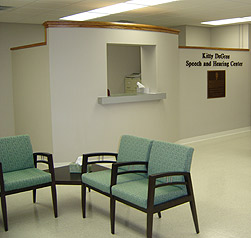 The clinic has served the community for more than forty years. The Clinic has contracts with area schools, hospitals, businesses, and the Scottish Rite bodies of Louisiana-Monroe. Adults and children from throughout northeast Louisiana, southern Arkansas, and the Mississippi Delta seek services at the Speech and Hearing Clinic. Annually, more than 400 screenings and evaluations, and over 4000 hours of therapy are provided. Consumer satisfactions surveys conducted at the end of each semester consistently reflect positive ratings about the high quality of services provided.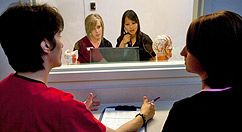 Under the direct supervision of certified speech-language pathologists and audiologists, graduate students evaluate and treat clients in the Speech and Hearing Clinic. All faculty members hold the Certificate of Clinical Competence (CCC) from the American Speech-Language-Hearing Association (ASHA) and are licensed by the Louisiana Board of Examiners for Speech Pathology and Audiology (LBESPA). Under the direction of clinical supervisors, graduate student clinicians consult with other medical and educational professionals as part of a trans-disciplinary approach (e.g. Occupational Therapy).