College Health & Pharmaceutical Sciences
Speech-Language Pathology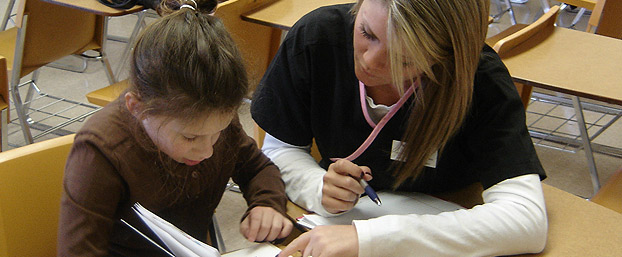 Department of Speech-Language Pathology
Kitty DeGree Speech and Hearing Center
The Master of Science education program in Speech-Language Pathology at the University of Louisiana-Monroe is accredited by the Council on Academic Accreditation in Audiology and Speech-Language Pathology of the American Speech-Language-Hearing Association, 2200 Research Boulevard, #310, Rockville, MD 20850, 800-498-2071 or 301-296-5700.
The Department of Speech-Language Pathology is in the College of Health and Pharmaceutical Sciences and offers both the B.S. and M.S. degrees in Speech-Language Pathology.

Undergraduate and graduate students typically enjoy interactive courses and personal attention from the faculty. Transfer and incoming freshman students are required to initially contact the Student Success Center for advising. After progressing to the upper level classes in the junior year, students are required to see their assigned advisor each semester.
ULM SLP in the News
ULM Speech-Language Pathology graduates earn perfect scores; surpass national average
Students in the University of Louisiana at Monroe's Speech-Language Pathology master's degree program earned a seventh consecutive 100 percent passage rate on the spring 2017 Praxis exit exam.
The Kitty DeGree Speech and Hearing Center
The Kitty DeGree Speech and Hearing Center continues to serve individuals with communication deficits in the areas of articulation, language, voice, fluency, swallowing, and hearing. [more]
Connect with Us!

 Follow us on Facebook
Announcements & Bulletins
---
30th Annual SPLP Spring Conference
Dates: February 22 & 23, 2018
Where: West Monroe Convention Center
Speaker: Dr. Kenn Apel, University of South Carolina
Topic: "It's All About Word Study:
A Multi-Linguistic Approach to Word Study" 
CEUs: 10 hours of CEUS approved by LBESPA & ASHA
Registration: Event & Registration Info (docx)
Deadlines for Admissions to Master's Program
The Speech-Language Pathology Master's Program accepts students two (2) times per year. Fall deadline is February 25th and Spring deadline is September 25th. Please refer to the M.S. Application Packet for more information. For further information please contact Dr. David Irwin, irwin@ulm.edu or 318-342-1392.