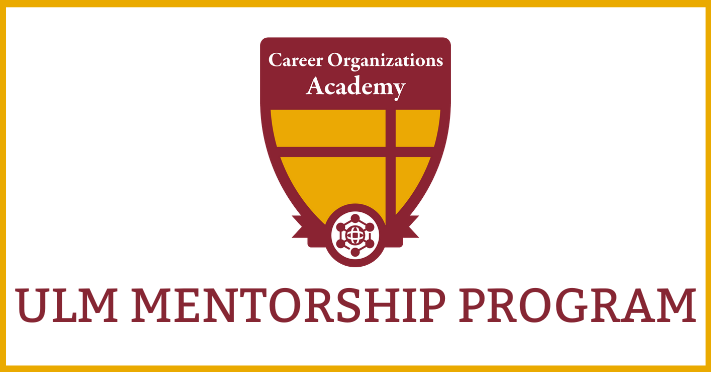 Mission:
The University of Louisiana Monroe Mentorship Program connects students to alumni and career professionals who seek to nurture their mentees personal and professional growth by: support and accountability, creating pathways to achieve set goals, and supporting the university's efforts in preparing career-ready graduates.


Take the opportunity to share your experience and knowledge with a ULM student!
You can be a mentor and volunteer your time to help a ULM student with his or her career exploration, life skills development, and networking opportunities. This is a formal relationship in which the mentor will guide the mentee in his or her professional development through the structure of the ULM Mentorship Program. A mentor will have the ability to challenge his or her mentee in identifying a course of action to reach his or her goal(s). The focus is on learning the skills necessary for the path ahead. A mentor and mentee will work together in partnership to foster meaningful conversation rich with integrity. The quality of the mentoring relationship is driven by the mentee.The mentee has an essential and active role to facilitate the professional relationship.
Mentor opportunities may include:

• Job Shadowing 
• Giving back to your community and coaching a college student to success
• Awareness of your own professional knowledge, skills, and values
• Recruiting students for internships or jobs
• Offering advice on the transition from college to the workforce
Mentee opportunities may include:
 • Networking with professionals within your chosen career field
• Increase awareness on soft and hard skills that pertain to industry success
• Understanding of what day-to-day duty requirements are for various jobs
• Potential for further opportunities such as internships and jobs
• Higher levels of confidence and self advocacy
• Enriches college experience and increases professional credibility for future employment
What is Mentoring:
Mentoring defined by the American Psychological Association: A mentor is an individual with expertise who can help develop the career of a mentee. A mentor often has two primary functions for the mentee: 
1. The career-related function establishes the mentor as a coach who provides advice to enhance the mentee's professional performance and development. 
2. The psychosocial function establishes the mentor as a role model and support system for the mentee. 
Both provide explicit and implicit lessons related to professional development as well as general work–life balance.
Mentor defined by the Oxford Dictionary: 1. An experienced and trusted adviser.1.1 An experienced person in a company or educational institution who trains and counsels new employees or students. Advise or train (someone, especially a younger colleague).
Mentee defined by the Oxford Dictionary: A person who is advised, trained, or counselled by a mentor.


Areas of Mentoring:
Life Skills
These are skills that are highly important both professionally and personally. Mentorships that focus on skills  development help the mentee learn specific skill sets in order to develop him or herself,  add value to the progress on his or her career path. 

Skills needed to be successful are endless, but here are a few recommended focus areas:
Emotional Intelligence- the ability to identify and manage your own emotions and the emotions of others
Initiative- taking the opportunity to act or take charge before others
Time Management- planning and exercising conscious control over the amount of time spent on specific  activities
Communication- ability to communicate effectively in the following areas: verbally, non-verbally, and written
Team Player- ability to work well with others 
Problem Solving- evaluate the problem, gather information, break problem down into parts, identify  solutions, choose best solution, take action, examine results, test and review
Critical Thinking- the objective analysis and evaluation of an issue in order to form a judgment


Career Exploration and Self-Awareness
Networking
About 80% of jobs are not advertised, so relationship building and connecting with people is vital for  professional gain. The relationships built now can be beneficial for the rest of your college career as well  as through your professional career.

W

h

e

t

h

e

r

 

y

o

u

 

i

d

e

n

t

i

f

y

 

a

s

 

b

e

i

n

g

 

a

n

 

i

n

t

r

o

v

e

r

t

 

o

r

 

y

o

u

 

v

i

e

w

 

n

e

t

w

o

r

k

i

n

g

 

a

s

 

a

 

n

e

c

e

s

s

a

r

y

 

e

v

i

l

,

 

l

e

a

r

n

i

n

g

 

a

n

d

 

 

i

m

p

l

e

m

e

n

t

i

n

g

 

t

h

e

 

a

r

t

 

o

f

 

n

e

t

w

o

r

k

i

n

g

 

c

a

n

 

b

o

o

s

t

 

y

o

u

r

 

c

o

n

n

e

c

t

i

o

n

s

,

 

t

h

u

s

 

b

o

o

s

t

 

y

o

u

r

 

o

p

p

o

r

t

u

n

i

t

i

e

s

.

Aversion to networking can be overcome by practicing these four strategies: focus on learning, identify  common interests, think broadly about what you can offer, find a higher purpose or goal. 
Important dates:
TBD | Final date for Mentee applications 
TBD | Final date for Mentor applications
TBD | Mentee and Mentor interviews 
 TBD | Mentorship Orientation 
TBD | Mentorship Ceremony 
---
Please call the Career Development Office at 318-342-5338 to speak with Alana Stevenson, Mentorship Program Director, to discuss the possibilities of connecting with a ULM student/Alumni/Employer today!