Welcome to the Unmanned Aircraft Systems Management program at ULM
Photo of unmanned (drone) aircraft, ULM is home to the state's only program in Unmanned Aircraft Systems.
ULM has a proud history in Aviation. In 1939, ULM (then Northeast Junior College) became one of 404 colleges to participate in the Civilian Pilot Training Program to train pilots for World War II. In 1967, Northeast offered the first four year Bachelor of Science degree in Aviation.  The program has traditionally followed a path of continuous improvement and innovation, and the current program maintains that tradition. 
ULM's Unmanned Aircraft Systems Management program is innovative and provides students with an analytical foundation to interpret data collected from use of UASs.  The program also continues to provide a solid foundation in business and aviation, creating a unique program and a variety of career opportunities for students. 
The overall goal of the program is to prepare individuals to become competent, ethical, safety conscious aviation professionals, ready to assume leadership roles in various aviation management careers, including use of UASs.  The focus on Unmanned Aircraft Systems is offered to those students whose career objectives are aimed at the emerging unmanned aircraft systems industry. The program provides the breadth and depth of instruction needed to ensure graduates are prepared to work as pilots/operators and/or developmental team members of unmanned aircraft systems while fully understanding the operational and safety environments of the National Airspace System.
Sky Breakers Drone Workshop
ULM will host two Sky Breakers Drone Workshops for high school and middle school students in spring 2023. For details, click here.
Recently in the News
The future is here with flight over fields technology
The work of Dr. Paul Karlowitz, associate professor of aviation, and Dr. Sean Chenoweth, assistant professor of geosciences, is yielding information that would empower growers to practice precision agriculture, saving them time and money. link to news story
ULM's drone program poised to change farming industry
The Aviation Program is producing cutting-edge drone research and hands on field operations that will improve agriculture—a major economic influence in northeast Louisiana. link to news story
New research unit at ULM promotes agriculture, approved proposal to create a unique Precision Agriculture and Unmanned Aircraft Systems (UASs) Research Application Center
The Louisiana Board of Regents recently approved the University of Louisiana at Monroe's proposal to create a unique Precision Agriculture and Unmanned Aircraft Systems (UASs) Research Application Center. The center will house a multi-disciplinary group that will assist the agricultural community in the development and application of innovative methods involving the use of UASs. link to news story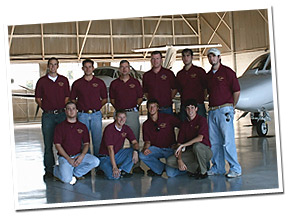 Former ULM Aviation Team at the
NIFA SAFECON Regionals