The Aviation Program is producing cutting-edge drone research and hands on field operations that will improve agriculture—a major economic influence in northeast Louisiana.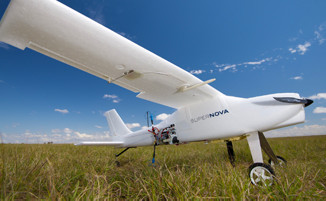 Unmanned aerial systems (UAS), or more commonly known as drones, are rapidly increasing in popularity. For years, UAS technology has been applied in various military field operations, including aerial photography, combat, and surveillance. More recently, drones have also found their way into the hands of many private citizens for recreational use. 
But far beyond their recreational appeal, drones can actually provide farmers with important technology that will ultimately help determine crop health and facilitate agricultural productivity overall. And while this might be news to many local farmers, that's certainly not the case in Japan.
In the early 1980s, Japan solicited the help of Yamaha to develop an unmanned helicopter for crop dusting applications. This initiative led to the development of Yamaha's R-50 and RMAX, two unmanned helicopters that have been used successfully by Japanese farmers for decades. The U.S. is currently pushing to implement UAS systems in a variety of contexts, including farming. And ULM is playing an integral role in the research and development behind it all.
In 2013, ULM's Aviation Program introduced the state of Louisiana's first concentration in UAS technology. It has already expanded to include a Precision Agriculture and Research Center (PARC), which is dedicated to producing research in agriculture—a major economic influence in our region. The research ultimately seeks to discover ways in which various sensor technologies can be used to determine crop health. 
And crop health is no small issue. In fact, the livelihood of local farmers depends on it. Parasites, feral hogs, shortage of light, drought, and nutrition deficiency are among many of the causes of crop damage. In a recent study, it was estimated that feral hogs alone caused over $74 million in crop damage in the state of Louisiana in 2013. Researchers agree that total crop damage in the state is well in excess of $1 billion, although exact financial loss is difficult to determine. 
So where do drones come into play?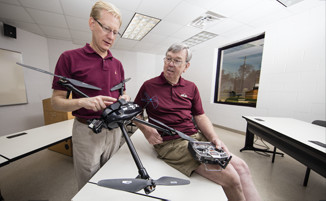 According to Dr. Sean Chenoweth, ULM associate professor in the college of business and socials sciences, and director of research for the PARC, UAS technology is an important tool that can assist precision agriculture by detecting problems with crops by using near infrared mapping technology.
"Once a problem is detected, field inspection is necessary to determine if there is a water shortage or surplus, bug pests, fungus or nutrient deficiency," says Dr. Chenoweth. "The traditional method has been to treat the entire field for a problem that might just be in one isolated place. Precision agriculture seeks to treat only the affected areas instead of wasting chemicals on the entire field." 
An unmanned aerial system consists of: a ground control station (laptop with antenna), software to program and fly the drone, autopilot software and hardware, multi-spectral camera (green, red, near-infrared), and image processing software to mosaic (stitch) the hundreds of images into one continuous map. 
After the drone has been programmed for flight and launched, it will fly over an agricultural field autonomously collecting multi-spectral images. The camera takes a picture about every 2 seconds. A 50 acre field takes about 200 images to cover. When the drone has finished taking pictures of the field it will also automatically land in a designated area. Then the images are downloaded to a computer for processing into a single mosaicked image. Healthy vegetation reflects large amounts of near-infrared radiation so the red and near-infrared channels are used to create a crop health map of the field. The most common formula used is the Normalized Difference Vegetation Index (NDVI), which ranges from -1 no vegetation to +1 for healthy vegetation.
According to one local farmer, the real utility of drone technology lies in its ability to do what farmers cannot physically do. "We have to micromanage things now in a way that we have never done before," says Edward Greer, who farms in three different parishes throughout northeast Louisiana. "A farm now is larger than it was twenty years ago, so in an effort to minimize expenses, we focus on precision agriculture, of which drone technology is a part. Farmers don't have time to manually walk fields any more and so the use of drones for precision agriculture applications is highly important."
But getting approval to operate agriculture drones is not as straightforward as many would think. According to the Federal Aviation Administration (FAA), the requirements needed for farmers to operate an unmanned aircraft or drone for their business include: a Section 333 grant of exemption, a Certificate of Waiver or Authorization (COA), an aircraft registered with the FAA, and a pilot with an FAA airman certificate. The processing time for an application for a Section 333 Exemption alone can take up to 120 days. Thus, the regulations as set by the FAA are prohibitive for some, and potentially discouraging to many.
But, according to Dr. Chenoweth, the benefits of drone technology for agricultural applications are countless. "I think most farmers will want to use UAS to manage their crops and livestock once they start hearing success stories of the potential of this technology from other farmers," says Dr. Chenoweth. "Right now, this is an industry in its inception. But it has the potential of becoming a large-scale industry, one that positively impacts farmers across our nation."
ULM has positioned itself to play a major role in this industry in a unique way: by educating local farmers. The UAS concentration is of course designed to encourage students to immerse themselves in the UAS technology and to keep abreast and comply with all of the FAA regulations. But local farmers are also being encouraged to get involved. For example, the Aviation Department at ULM continues has offered a free UAS and agriculture seminar, covering topics such as ground control station programming, flight operations, field mapping and image stitching (mosaicking). And this seminar, which is funded by the Delta Regional Authority, is one of many seminars to come.
ULM's efforts to educate the public on drone technology are not going unnoticed. Edward D. Markle, a member of the Louisiana Board of Regents, who is also a licensed FAA flight instructor and commercial pilot, says this is precisely what sets ULM's Aviation Program apart from others. "One of the problems about UAS technology is that the farmer has not caught up to the technology. That is, many farmers know about drones, but they have limited or no knowledge about how to use them. This is precisely where I see ULM making a lasting difference—by opening up the classroom to educate local farmers."
ULM has been granted a Certificate of Authorization (COA) by the FAA for aeronautical research on a 50 acre plot of land in Sterlington, although the Aviation Program is pushing for regional approval.
To learn more about the UAS Program, please visit ulm.edu/cbss/aviation.