College of Arts, Education, & Sciences
School of Education
Teaching may be just the profession you want to pursue if you enjoy working with children and young adults. Teaching is a dynamic profession which permits you to share the knowledge you have gained with others and to positively influence the lives of many.
The School of Education is dedicated to preparing exemplary teachers through undergraduate academic degree programs in areas of Elementary Education and in selected content areas at the secondary level. The degree programs are based on the ULM Interactive Learning Model to Prepare Learning Facilitators.
Our program is accredited by the Council for the Accreditation of Educator Preparation (CAEP) and the Southern Association of Colleges and Schools Commission on Colleges (SACSCOC). The program is designed to enhance professional educators to facilitate learning. Each program reflects a carefully planned interaction among five components: general studies (classes common to all undergraduate programs), professional and pedagogical studies (classes in instruction of teaching methods), content studies (classes in Mathematics, Science, Social Studies, etc.), Integrative Studies, and clinical and field experiences (student teaching).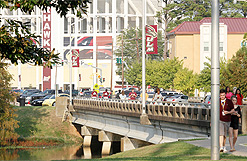 Each candidate is assigned a professional advisor who will provide assistance as you progress through your program. You will meet with your professional advisor each semester prior to registering for the following semester. Once you have earned your degree in Elementary or Secondary Education from ULM, you will be able to become certified to teach in elementary schools (Grades 1-6 or PK-6) or in the secondary schools (Grades 7-12). The Elementary Education program requires 120 hours for the baccalaureate degree. For certification in Early Childhood, the program requires additional hours. For a baccalaureate degree in Secondary Education the credit hours required will vary depending on the concentration. The knowledge you gain in the general, professional, pedagogical, content, and integrative studies components will attain meaning through clinical and field-based experiences.
The unifying factor in your studies is the clinical and field experiences component. In the clinical and field experiences component of the program you will observe and practice those processes necessary to construct knowledge and translate general and specialized knowledge in a comprehensible way for varying types of students. You will spend an entire academic year working in a public school classroom under the supervision of a master teacher and a university supervisor during your student residency experience. This experience will provide you with the opportunity to "fine tune" your teaching skills as well as permit you time to integrate the knowledge you have gained in your studies and apply it to real-life situations.