College of Arts, Education, & Sciences
VAPA | Music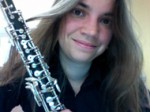 Elizabeth Rennick teaches oboe in the Department of Music. Prior to joining the faculty at ULM, she held positions at Eastern Kentucky University (EKU), Snow College (Ephraim, Utah) and Coe College (Cedar Rapids, Iowa). She holds degrees from Brigham Young University (BM and MM) and the University of Iowa (DMA), and considers herself lucky to have studied with Geralyn Giovanetti and Mark Weiger.
Elizabeth was a founding member of Dolce Veloce, an actively touring flute-oboe-piano trio, with flutist Sonja Giles and pianist May Tsao-Lim. Dolce Veloce has performed in Georgia, Mississippi, Alabama, Iowa, Wyoming, Arkansas, Texas, Wisconsin, Kentucky, Nebraska, and Minnesota. She has served in the Cedar Rapids and Dubuque Symphony Orchestras (Iowa) and the Lexington Philharmonic (Kentucky). She was pleased to play at the International Double Reed Society Conference in 2005 (Austin), 2008 (Provo), 2010 (Norman), and 2011 (Tempe). She has performed with numerous small ensembles, including the Madison Winds, the resident faculty quintet at Eastern Kentucky University, and the Lexington(KY) Bach Choir.
An enthusiastic educator, Dr. Rennick has frequently worked with the Central Kentucky Youth Orchestra and has been a resident faculty member of the Stephen Foster Music Camps, the Kentucky Governor's School for the Arts, and Wyoming's Music, Arts and Technology Festival.