Published September 5, 2013
Earlier this summer, University of Louisiana at Monroe graduate Jenae' Clay received $1,000 in research funding from Tulane University's Oscar Lee Putnam Cultural and Intellectual Enrichment Grant.
Since then, Clay has been working in ULM's plant ecology lab with Dr. Joydeep Bhattacharjee, associate professor of biology.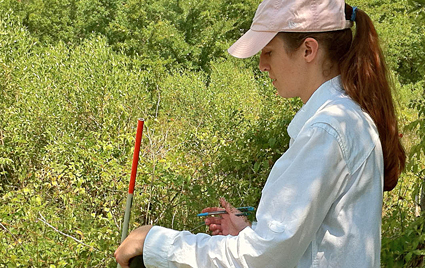 "Jenae' is extremely enthusiastic about doing science, a very quick learner, and always wears a smile – not just indoors, but also during harsh field conditions with temperatures in the high 90s, swarms of mosquitoes, and under extremely humid conditions due to thick vegetation," said Bhattacharjee.
"This really reflects the fact that she thoroughly enjoys doing research."
Clay's interest in the interdisciplinary fields of meteorology and biology led her to work with the plant ecology lab during her senior year at ULM.
As a student of the Honors Program, she wrote a thesis entitled, "Canopy-mediated Micro-climatic Effects of Abiotic Variables on Plant Growth: the Nurse Plant Hypothesis." Nurse plants, widely researched in plant ecology, are usually trees or shrubs that ameliorate conditions for the establishment and growth of other vegetation in their proximity.
The results of her research were presented at the Louisiana Collegiate Honors Council Conference in New Orleans and at ULM's Annual Academic Summit, facing positive reception from both collegiate platforms.
While her experiment for her honors thesis yielded support for the nurse plant hypotheses, it was conducted in a controlled environment.
Clay wanted to further test the role of trees as "nurse plants" in a natural forest.
"Receiving the Putnam Grant has presented me with the opportunity to carry out independent research that combines my interest in the fields of atmospheric science and biology," said Clay.
"My present research explores biotic and abiotic variables in the Ouachita Wildlife Management Area to determine if trees undergoing secondary succession in this bottomland hardwood forest act as nurse plants for other trees' seedlings."
Since the beginning of the summer, Clay has collected vegetation and atmospheric data from under and outside of 30 tree canopies with the intent of determining relationships between the biotic and abiotic variables.
She displays strong enthusiasm for the opportunity to do independent research with Bhattacharjee with funding made possible by the Oscar Lee Putnam Grant.
"It is an enriching opportunity to work with the plant ecology lab as I am carrying out my research," said Clay.
"This experience has emboldened my aspirations to pursue a master's degree in biometeorology in the fall of 2014 and conduct more research in the future."
Clay received a Bachelor of Science in Atmospheric Sciences from ULM in May 2013, graduating with Honors in the University. She grew up in Lafayette.

 
Field photo of Jenae' Clay courtesy Dr. Joydeep Bhattacharjee