Historical Overview of the University of Louisiana at Monroe
The University of Louisiana at Monroe has followed a course of vigorous growth in its transition from a junior college to an institution offering a comprehensive range of undergraduate and graduate degree programs.    
In September 1931, the University opened for its first session in Brown Hall as Ouachita Parish Junior College, which was operated as part of the Ouachita Parish School System. In 1934, Louisiana State University received authority from the State Legislature to operate the facilities of the University as Northeast Center of Louisiana State University.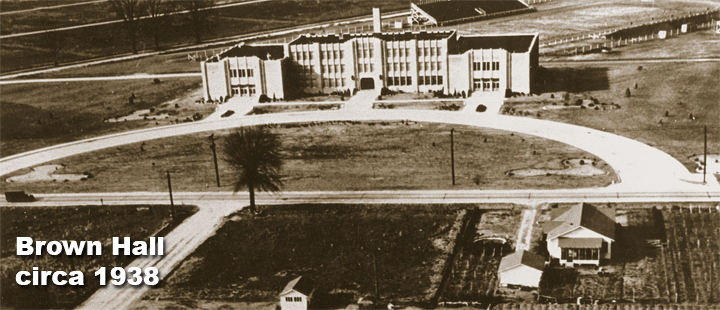 The name of the institution was changed to Northeast Junior College of Louisiana State University in 1939. The following year, the State Legislature authorized the transfer of all lands connected with Northeast Junior College to Louisiana State University.
The 1950 Legislature approved the expansion of Northeast Junior College to a senior college granting academic degrees. The name of the institution was changed to Northeast Louisiana State College, and its control was transferred from the Louisiana State University Board of Supervisors to the State Board of Education. The School of Pharmacy was established in 1956.
The 1969-70 academic year was a milestone for ULM; in addition to awarding the first doctoral degrees, the name was changed to Northeast Louisiana University by the 1970 Legislature. The constitution, adopted by the people of Louisiana in 1974, provided that the administration of state colleges and universities be changed from the Louisiana State Board of Education to the Board of Trustees for State Colleges and Universities effective May, 1975.
This Board's name was again changed on June 8, 1995 to the University of Louisiana Board of Trustees and in 1998 to the University of Louisiana System Board of Supervisors.
The Graduate School was established in 1961 to offer master's degrees. In the Fall of 1967 the Education Specialist degree was first offered and in 1983 the Specialist in School Psychology degree was added. The Graduate School established the Doctor of Philosophy degree in Pharmacy December of 1967.
In 1993 the Office of Research and Projects and the Graduate School were merged forming the Office of Graduate Studies and Research. This reorganization was implemented to more effectively support scholarly activities of faculty and students.
In 1994, Northeast Louisiana University, in cooperation with Louisiana Tech University and Grambling State University, formed the Louisiana Education Consortium, a uniquely and timely effort to offer the Doctor of Education degree at each campus.
In the Fall of 1996, the Doctor of Philosophy in Marriage and Family Therapy admitted the first class of students.
On August 27, 1999, the university officially changed its name to The University of Louisiana at Monroe, and on June 26, 2006, ULM officially changed its athletic mascot from "Indians" to "Warhawks."