Published September 13, 2013
University of Louisiana at Monroe alum Trevor Hall (B.A., '11) is the owner and operator of Nationwide Aviation—a unique full service traveling flight instruction school which trains students and individuals at their location, anytime, anywhere.
Hall said that Nationwide's personal flight instruction sets them apart from other schools.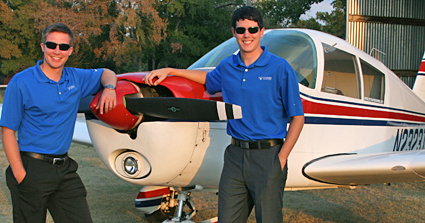 Their customers are not just students—they are clients, and Hall strives to serve them, not vice versa.
"We work with students in their offices', in their living rooms, in their trucks as they travel between jobs," said Hall. "We essentially become our customer's full-time personal flight instructor."
Nationwide Aviation is based in Fort Worth, Texas offering pilot services, aircraft management, and aircraft brokerage services. Nationwide also offers nontraditional scheduling.
While most flight schools offer training in one-hour blocks, Nationwide offers four and eight hour training sessions.
Not only do Hall and Reetz enjoy and excel in aviation, they also love to teach others their craft and have dreamt of doing so ever since their days at ULM.
"The idea of the business stemmed from wanting to take the traditional flight training experience that most airports provide and tweaking it to personalize it.
Flight training was a great way to take both Trevor and my love for flying and share it with others and really the rest is history," said Reetz.
While at ULM, both Hall and Reetz were members of Pi Kappa Alpha chapter fraternity and served on the Student Government Association.
As faculty advisor of Pi Kappa Alpha Fraternity, Tommy Walpole, executive director of Auxiliary Services at ULM, advised both Hall and Reetz for four years.
"They were always dedicated to purpose, and accomplished all they set out to accomplish at ULM and more," said Walpole.
Nathan Hall, previous SGA advisor, is not surprised by Hall and Reetz's success. "It would have been easy to predict that Chad and Trevor would go on to do great things in aviation so early in their career," he said.
"They both were driven to be the best at whatever they set their mind to. Chad was very gifted in advertising and Trevor was very gifted in leadership. That partnership seems like a natural fit. They were also big fans of the university."
For Hall and Reetz, the dream of offering unique services to their customers became a reality while at ULM and they continue—through their business—to thrive as alumni of ULM and the ULM College of Business aviation program.
For more information on Nationwide Aviation, visit facebook.com/NationwideAviation


Photo of Hall and Reetz courtesy Nationwide Aviation