Published September 16, 2013
Anton Dudko attended the University of Louisiana at Monroe for two semesters from the fall of 2011 to the spring of 2012, traveling from his hometown of Kyiv, Ukraine through the Global UGRAD exchange program for students.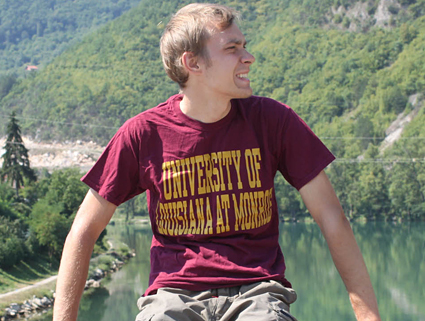 During that time, he hitchhiked from Louisiana to the Pacific Ocean and back.
Now, he and a friend have taken up hitchhiking again, this time from Kyiv to Edinburgh, Scotland and back, with the purpose of raising funds for a boarding school in the Kyiv region.
"During our trip, we film videos of people who help us along the way, of cultural things we see, and of our adventures, releasing them online as a solely two-person amateur show," said Dudko.
"If our web visitors like the show and our materials, they can donate on a separate online donation page. This money is going to benefit a boarding school for underrepresented children with disabilities."
Dudko refers to his hitchhike as the "Unkrainian" project, a deliberate misspelling meant to denote "a Ukrainian who is no longer limited to Ukraine."
The tagline for the project is "Life Without Subtitles."
He says, "The negation 'un' expresses the cosmopolitanism of me and my colleague, as we love our country and promote and spread correct knowledge about Ukraine abroad, but love all other countries equally."
The pair of hitchhikers wanted to raise money for a local charity, but needed help with the technical processing of donations according to Ukrainian laws.
"We had to find an outsourcer for that, and we found Ukraine Charity, an organization that is registered in the United Kingdom and operates in British pounds but supervises projects in Ukraine," said Dudko.
"Since then it was their initiative, and they suggested the boarding school in the Kyiv region. We went to visit, meet the principal, and see the conditions for ourselves –it's really horrible and in need of help."
Dudko's travels have proven for him that he can find good people anywhere.
He said, "Whenever I hear from somebody that 'people in this country are just not friendly' or 'I would never go to that country again,' it makes me laugh inside. Maybe it just takes a bit of respect and openness from yourself, or searching for good people in other places than hotels or touristic crowds."
Then he added, "Or maybe it's just that I haven't gone to these 'bad' countries yet – I'm only at 19 countries so far."
On this latest trip, Dudko has found particular joy in the Balkan states, specifically Serbia and Bosnia and Herzegovina.
"Serbia amazed us with the hospitality of the people," he said, "and Bosnia and Herzegovina with gorgeous landscapes."
He also names Belarus, the United States, and Luxembourg as a few of the countries he has particularly enjoyed visiting.
Dudko speaks native Ukrainian and Russian and is fluent in English. He speaks at an advanced level in Belarusian and French, with a functional command of German and Polish.
Among his goals – which include having an article about him on Wikipedia "not written by myself!" – is the aspiration to learn 15 languages by the age of 30.
"The latter means learning about one language per year, and I'm still going to fight for it," said Dudko.
"Currently I have a vision that I can make foreign languages my lifestyle, being able to teach them online as a freelancer and thus having independent location and freedom to move around."
As he prepares to leave Edinburgh and begin his trek home to Kyiv, Dudko credits his time at ULM and in the United States as one of his first steps toward the "Unkrainian" project.
"Coming to ULM was really my first chance to spend some extended time away from my parents, my home apartment, and my home country," he said.
"It was a challenge to figure out most things on my own, but it was so much fun! And it was definitely in the U.S. that I took traveling to the next level. With the good support of my program supervisors, ULM staff, and friends, it seemed not scary at all."
For more information, visit unkrainian.com/en/charity or to donate, visit justgiving.com/unkrainian
Photo courtesy Anton Dudko