Published September 16, 2013
Over the summer of 2013, University of Louisiana at Monroe graduate student Calvin Stafford worked as a press intern for Senator Mary Landrieu in Washington, D.C.
He obtained the highly competitive internship after meeting with the senator last year, when he served as ULM Student Government President.
Throughout the course of the program, Stafford was the only intern from north Louisiana.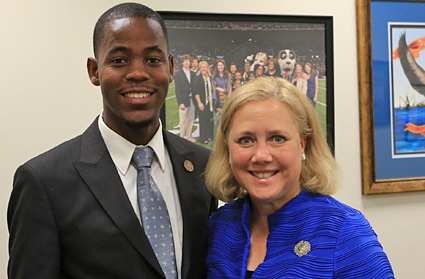 "This internship has meant so much to me," said Stafford.
"I am so thankful for the opportunity to learn more about the way our government works. It's interesting to learn about government from a textbook, but it's mind-blowing actually being in the place where so much history has been made. I learned from this internship that I would like to work in government."
Every morning, Stafford printed the front pages of every newspaper in Louisiana and operated a program that counted the number of times television media mentioned the senator's name across the country.
These instances were recorded, and the clips were sent to constituents.
Stafford's other duties included "writing press releases, updating the senator's social media sites, accompanying the senator to meetings, and sitting in on television and radio interviews."
The internship also allowed Stafford to explore Washington, D.C. He had the chance "to tour the Supreme Court, the Capital, and the Library of Congress," as well as "to hear General Colin Powell speak and to ask questions of Stephen Colbert."
Stafford earned a Bachelor of Science in Speech Language Pathology from ULM in May 2013 with a minor in health studies. Currently, he pursues a Master of Science in Forensic Psychology at ULM.
He grew up in Lecompte and originally enrolled as a music major, but now feels drawn to government work.
"In five years, I see myself out of law school and working in Washington, D.C.," said Stafford.
"I would like to be working in a senator's office as a legislative director, or possibly a chief of staff. In ten years, I hope to be preparing to run for public office."
Overall, Stafford deemed the internship invigorating and found himself star-struck, particularly when Vice President Joe Biden visited the office.
"For me," said Stafford, "walking down the halls with Senator Landrieu was like walking the red carpet with Beyoncé!"


Photo courtesy Calvin Stafford