Published September 20, 2013
Continuing the upward trend of the last three years, overall enrollment is up at the University of Louisiana at Monroe by over 100 students from fall 2012.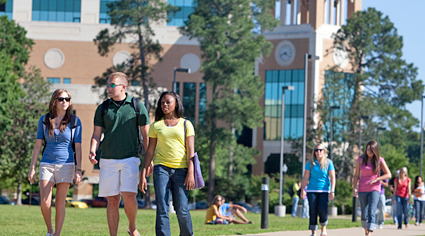 Likewise, the fall 2013 freshman class boasts record numbers in enrollment, ACT scores, Taylor Opportunity Program for Students (TOPS) recipients, and grade point average (GPA).
"We understand with the current economic climate and current state of higher education in Louisiana that increasing enrollment is pivotal to our success," said ULM President Dr. Nick J. Bruno.
"These increases prove that ULM's brand and quality of academic programs are being 'discovered' by both undergraduate and graduate students. 
"ULM is being sought by students with high academic achievement and interest in attaining a bachelor's or master's degree from an outstanding university with a caring and dedicated faculty and staff."
Fall 2012 saw an overall enrollment of 8,545 students.
Fall 2013 enrollment comes in at 8,645 students, an increase of 100 students. A large part of that number comes from ULM's record-breaking first-time freshman class of 1,338 students.


2013 Freshmen Class: Inside the Numbers
With the overall average ACT score remaining steady at 22.4, students with a 30 plus ACT score nearly tripled from 2012. There are almost 80 more students with a 3.75 to 4.0 GPA in the 2013 freshman class, and the percentage of students qualifying for TOPS is up by five percent since 2012.
ULM is also ensuring a stable student body by drastically decreasing the number of admissions exceptions made. For example, in 2012-13, ULM had the lowest number of enrollment exceptions in the entire University of Louisiana System by only allowing 1.9 percent of new applicants to be admitted by exception.
In fall 2013, only six students were allowed admittance via exception. Assistant Vice President for Enrollment Management Lisa Miller attributes the university's reputation for excellence as a factor in the increasing numbers.
"Continued growth at ULM indicates that students are aware of the quality education, the unlimited opportunities, and the tremendous value that the institution offers," she said.
"I believe that our growth reflects our reputation throughout the state of the Louisiana, as well as contiguous states. To be a part of the strongest academic freshmen class in the history of the institution is something for the entire faculty, staff, alumni and community to be proud of this year."
Graduation rates also help move the university forward. Graduation rates have increased every year since 2008 with a ten percentage point increase from 2008 to 2012.
ULM's enrollment success doesn't end with the freshman class.
ULM's international student enrollment is up, and graduate student enrollment is up by almost 70 students, bringing the graduate cohort to 991. 
Overall, President Bruno sees the across the board improvement as something to build on.
"Our goal is to continue to provide information that shows students that ULM is the right choice," he said.
"We want them to know about the excellent education provided by our faculty, and about the warmth of all who serve our students. This message is being heard and students seeking a university that provides a superior experience are choosing ULM. This is an amazing accomplishment despite the financial challenges faced by our institution."