Published September 25, 2013
Story by Julie Landry
Emily Winkler (B.A. '13) chose to attend the University of Louisiana at Monroe because she "didn't want to go too far" from her hometown of West Monroe. Now, Winkler travels much farther. On Sept. 12, she left for Madrid, Spain, where she will spend ten months teaching English as a second language (ESL) at the Virgen del Rosario elementary school.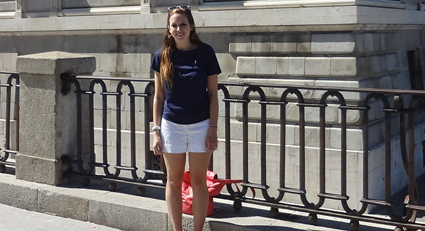 "It means everything to me to have obtained this position," said Winkler.
"My dream is to be an ESL teacher and to do mission work in Hispanic countries, so by getting this position, I guess you could say I have the best of both worlds."
She applied for the position through the Council for International Education Exchange, which sends graduates all over the world to teach the English language and culture.
Winkler has traveled abroad in the past – her favorite memories as a student span the length of a study abroad program in Merida, Mexico, with ULM Spanish professor Dr. Charles Holloway.
"Being in Mexico, living with a local family, being surrounded by the culture, was the most amazing thing I have ever experienced in my life," she said.
Winkler's professors found that she had an aptitude for language and culture.
"Emily is a very mature and dedicated student whose love for the Spanish language was evident in every course I had with her," said Holloway.
"I believe that her participation in the ULM-Mexico Program during the summer of 2012 was a tipping point in her decision to teach English abroad. During her time in Mexico, she genuinely seemed to appreciate the language, culture, and people of that region. She expressed regret about having to leave Mexico at the end of the program, and in fact, she visited the area again earlier this year."
Dr. Ruth Smith, Director of the School of Humanities and Spanish professor, said, "Emily was an enthusiastic participant in our outreach program to teach Spanish to elementary students in local city schools. She will benefit from her experiences in Spain, especially since she ultimately wants to teach ESL to children. She is very focused on her goals and will be a wonderful representative for the university and the United States."
Ultimately, Winkler sees this new opportunity as a result of great preparation and nurturing.
"All of my Spanish professors have been so supportive and had sort of taken me under their wings while I was a student," said Winkler.
"Drs. Smith and Holloway went above and beyond the call of duty in helping me with letters of recommendation, discussing my options about becoming an ESL teacher, and just making sure I was given every opportunity they could offer me. I hope one day I'll be able to help my students in a way they never expected, just as all of the Spanish professors have done for me."
Winkler certainly intends to start toward that day during her time in Madrid. "While I'm in Spain, I plan on volunteering in a foster program, working with the kids, helping in whatever way I can, and getting involved in a local church and participating in their outreach," she said.
After the year ends, Winkler plans to obtain her master's degree and ESL certifications before moving to Texas to continue teaching ESL.
"The advice I would offer to current students," she said, "would be not to limit yourself in your dreams. You can go anywhere in the world and make a difference. Leaving is scary, but know the outcome will be so worth it.

Photo of Emily Winkler courtesy