Published October 1, 2013
The University of Louisiana at Monroe's Office of Career Connections will host its annual fall All-Majors Career Fair from 10 a.m. to 2 p.m., on Wednesday, Oct. 2, on the second floor of the Student Union Building (SUB) Ball Room.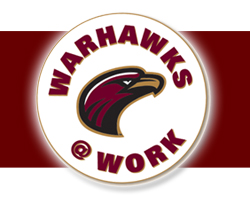 Representatives from almost 70 companies throughout the state of Louisiana and surrounding states will attend the career fair in search of prospective interns and full-time employees.
CenturyLink, Chase, Vantage Health Plan, St. Francis Medical Center, Tulane University Law School, Satterfield & Pontikes, and Hoak Media—among many others—are scheduled to attend.
This year's fair is sponsored by Enterprise Rent a Car, Brand Energy Solutions, Louisiana Machinery Company, LLC-Louisiana CAT, and KARD/KTVE.
Professional dress and a current ULM student ID are required to enter.
For more information visit ulm.edu/careerconnections
For a complete listing of attending businesses visit ulm.edu/careerconnections/fallcareerfair13.html