Published October 1, 2013
The University of Louisiana at Monroe Lambda Sigma Chapter of the Spanish Honor Society, Sigma Delta Pi, recently initiated five new members.
The new members are Kelsey Adams, a risk management and insurance major from Calhoun; Brianna Hansbrough, a health studies major from Orland Hills, Ill.; Robert Wofford, a history major from Monroe; Candice Johnson, a kinesiology major from Keller, Texas; and Conrad Cable, an English major from Marion.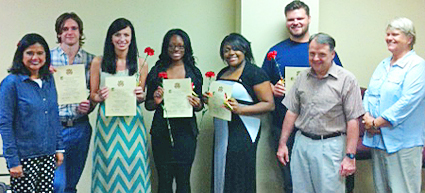 Sigma Delta Pi President Delia Valerio, Vice President Brittany Beasley, and Secretary Alexis Wells, conducted the ceremony.
Faculty within the Department of World Languages also participated.
Instructor María Blanca Wortham, Professor Dr. Charles Holloway, and Professor Dr. Ruth Smith assisted with the ceremony, reading selections from Spanish literature by renowned writers from Spain and Latin America.
In order to be a member of Sigma Delta Pi, students must have an overall grade point average of 3.2 or higher and a 3.0 in Spanish.
In addition, students must have completed two advanced Spanish courses, with at least one in culture and civilization or literature.
Sigma Delta Pi was founded in 1919.  ULM's Lambda Sigma Chapter was established in 1976.