Published October 21, 2013
The University of Louisiana at Monroe Water Ski Team won its 25th National Championship this past weekend at Imperial Lakes in El Centro, Calif. The team has won three years in a row and 25 titles in the 35 years of the competition's existence.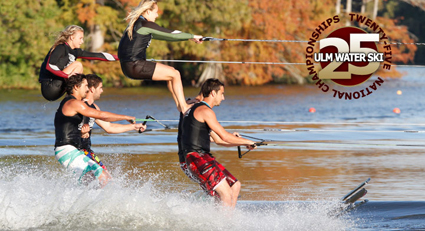 According to usawaterski.org, the Warhawks racked up 12,885 points, ahead of the second place team, in-state rival, the University of Louisiana at Lafayette who scored 12, 610 points and the University of Alabama who came in third with 10,330 points.
Treina Landrum, the team's coach said, "This year's National Championship Tournament was a true competitive struggle all the way to through the last event," she said.
"We saw great skiing from ULM skiers as well as from the other competitors.  Our ULM Water Ski Team fought hard for the victory they are enjoying. It is especially memorable that they are the team that returned home with the 25th National Championship Title.  It is a once in a life time accomplishment that binds them with all of the previous ULM Skiers who brought us to this point."
Landrum continued, "I would like to thank all the previous ULM Skiers for their contributions and recognize the efforts of Dean Tom Murphy and Bill Bagley for their leadership and devotion to ULM Water Skiing. We would also like to thank the ULM Students, ULM Administration, and our community supporters for their help and encouragement. Go Warhawks!"
In the Division I field, ULM was joined by the University of Alabama, Arizona State University, University of Cincinnati, Florida Southern College, Grand Valley State University, Kansas University, University of Louisiana at Lafayette, Miami of Ohio, Michigan State University, Rollins College, and University of Wisconsin-Madison.
Individual medals for slalom, tricks and jumping were awarded based on athletes' placements within their division. Overall titles were awarded in each division to athletes competing in all three events.
The ULM men swept the top five spots in the jump competition with Claudio Koestenberger coming in first, Siarhei Bushyn coming in second, Martin Kolman placing third, Michael Stevenson placing fourth, and Will Oliver placing fifth.
The five men were separated by only 40 points with the first place Koestenberger scoring 580 points and the fifth place Oliver Scoring 540 points.
ULM's James Earl won the men's trick competition.
The ULM men also took the overall men's, slalom, trick, and jump competitions.
Martin Kolman and Siarhei Bushyn took first and second place respectively in the overall men's skier competition.  
On the women's side, Janice Stevens took second place in the women's trick competition and fifth place in the women's overall competition.
Emilia Hoikkanen won second place in the overall women's skier competition.
The team will host an exhibition at 5 p.m. on Tuesday, Oct. 22, on Bayou DeSiard.
For more information, contact Treina Landrum at 318-342-5313 or landrum@ulm.edu
For a full listing of results, visit www.usawaterski.org/rankings/scorebks/14U031CS.HTM
More about the ULM Water Ski Team
The ULM Water Ski Team competes in the National Collegiate Water Ski Association South Central Region. Members of the ULM Water Ski Team are:
Women's Team: Jenny Benjamin of London, England; Eleanor Benjamin of London, England; Emilia Hoikkanen of Finland; Carli Guyer of Pierson, Florida; Maddison McCammon of Clermont, Florida; and Janice Stevens of Morrisburg, Ontario, Canada.
Men's Team: Jake Bridges of Ireland; Siarhei Bushyn of Minsk, Belarus; James Earl of Solihul, England; Claudio Koestenberger of Sattendorf, Austria; Martin Kolman of Prague, Czech Republic; Will Oliver of Hull, England; Nikita Papkul of Novopolotsk, Belarus; Tyler Scott of Covington, Louisiana; and Michael Stevenson of Gilbert, Arizona.
For information about the ULM Water Ski Team, contact Landrum at 318-342-5313 or landrum@ulm.edu or visit the team's Web site at www.ulmwaterski.com