Published October 23, 2013
With the approval of University of Louisiana System (ULS) President, Dr. Sandra Woodley, the University of Louisiana at Monroe will award honorary doctorates to three long-time supporters and advocates of ULM—Tex Kilpatrick, George Luffey, and John H. McCarter.

Each of the recipients will be given an honorary Doctorate of Humane Letters at ULM's December Commencement Ceremony at 10 a.m., on Saturday, Dec. 7, in ULM's Fant-Ewing Coliseum.  
"I proposed awarding these degrees because it has always been my goal to honor some of the most influential people in ULM's history," said ULM President Dr. Nick J. Bruno.
"Tex, George, and John have been pivotal in the success of our institution in the past and even still, today. These will be the first honors conferred since 2001, and it will be my pleasure to bestow each of these men with their honorary doctorates in December."
The Honorees:
Tex Kilpatrick is the CEO of Kilpatrick Enterprises where he manages multiple businesses throughout North Louisiana.
Tex has served as a member of Louisiana State University's Alumni Board—his alma mater—and shown unwavering support to his wife Carole Eady Kilpatrick's alma mater, ULM. Tex was appointed to the ULS Board where he served from 1997-2002, has aided ULM in many capacities including service as the Vice President of the ULM Foundation, and has shown continued support for ULM's Lyceum Series.
He has served as a member of the West Monroe Chamber of Commerce, the Monroe Chamber of Commerce, West Monroe's Lion's Club, and the United Way.
Tex and Carole have been married for fifty-five years. They have three daughters and four grandchildren.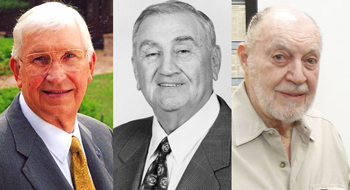 George Luffey served as a member of the Board of Regents for 18 years and also served ULM as a member of its faculty, and coach for its football and baseball teams.
In 1971, Luffey established and continues to maintain the George L. "Chip" Luffey Jr. students scholarship in memory of his son, "Chip."  Luffey also established the George L. "Chip" Luffey Endowed Professorship in Kinesiology.
Luffey led the ULM baseball team to its first championship in 1964 during his tenure as head coach, was president of ULM's Booster Club, was voted into the ULM Hall of Fame, and received the George T. Walker Lifetime Achievement Award.
George has been married to his wife Jane Puckett Luffey for fifty-five years. They have three daughters and three grandchildren.
John McCarter, a Louisiana State University Graduate and decorated World War II veteran, is a renowned geologist who taught at both Louisiana Tech University and ULM.
McCarter was the founder and head of ULM's geology department and holds Emeritus status with the American Association of Petroleum Geologists. John compiled and wrote the geology of Lincoln and Ouachita parishes for the Geological Survey, and was the primary author of "Louisiana Iron Ore."
McCarter currently serves as an independent geologist and consultant, studying the Northeast Louisiana gas and oil fields. McCarter is celebrated as a pioneer of geological study in Northeast Louisiana and at ULM. 
He is a member of the Northeast Louisiana Archaeological Society, and a lifetime member of the ULM Museum of Natural History.