Published October 29, 2013
story by Paul Letlow
The ULM Alumni Association presented its annual awards: the Golden Arrow Award;  the George T. Walker Lifetime Achievement Award; Rising Young Alumnus Award; Chapter of the Year Award; and the ULM Service Award during a brunch held at ULM Oct. 26 during Homecoming Week.
Click to read about: Glen and Jo Williams  |  Bob Anderson  |  Tim Rightsell  |  Baton Rouge Chapter  |  Chris Ringo
---
Golden Arrow Award winners: Glen and Jo Ann Williams
Like cooks stirring ingredients into a tasty batch of gumbo, Glen and Jo Ann Williams know how to blend their favorite elements into something special.
Respected educators and longtime supporters of the University of Louisiana at Monroe, the Williams' fund a scholarship for prospective teachers from Franklin Parish. Passionate about their former profession, ULM and their home base, the Williams established the scholarship about 10 years ago with the goal of luring quality teachers to the Winnsboro area.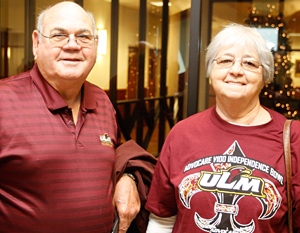 "We're both educators and it helped make our living," Glen Williams said.
"And so we give a scholarship to someone from Franklin Parish after they've been admitted into education school. We encourage them to come back to Franklin Parish to teach. We've had some go elsewhere, but most of ours come back here."
"We're proud of the standards that the school has set and that it has continued to be what it is," Jo Ann Williams said.
"The university is responsible for my education out of high school. I had three degrees from ULM and every one of them has helped me in so many ways. There have always been good people there we've been able to respond to and they've responded to us. We really appreciate that very much."
The Crowville, La., couple certainly knows and appreciates the virtues of home.
"We have a philosophy," Glen Williams said recently while enjoying a steak dinner at Brown's Landing in Winnsboro.
"You're going to find what you're looking for. I always found people to enjoy and enjoy what's going on. We just try to help other people the best we could."
In recognition of their years of service to ULM, the Williams are the 2013 Golden Arrow Award recipients. The highest alumni award given, the Golden Arrow spotlights those who distinguish themselves through personal or professional achievement and served the ULM Alumni Association or their local chapter well over a period of years.
"Glen and Jo Ann are two of the first alums I met when attending my first alumni event in Farmerville," said Devin Girod, director of alumni affairs for ULM.
"Less than a week later, I saw them in Delhi. I now realize that this will be a recurring process because they do not miss anything, especially with football and basketball. However, it is not just athletics with Glen and Jo Ann. They are educators and reflect that passion for academics through their scholarship support. They are more than deserving of this honor."
Their association to ULM dates back to the 1950s when both were students. Glen Williams, who majored in health and physical education, went on to coach and teach science at Crowville High School for 27 years. Jo Ann taught English before moving into the central office in Franklin Parish.
Additionally, the Williams have enjoyed successful business ventures, once owning a home health agency with 33 employees and now raising cattle.
"We were both raised on a farm and we have farmland that we lease out to farmers," he said.
"I raise registered Angus cattle. That's why we like to eat beef every chance we get."
Proud and active members of the First Baptist Church of Crowville, the Williams have always been heavily invested in their extended community.
Glen Williams worked on a committee for soil conservation for 29 years and served a term in the state legislature from 1980-84. Over the years, their sense of loyalty and community to ULM kept them deeply rooted with their alma mater.
Glen served on the ULM Alumni Board for several years and they are diehard fans of all the athletic teams that wear Maroon and Gold. Glen Williams even did a stint as public address announcer at track meets for several years.
"It means a lot to have a university that close that we can truly recommend to students," Jo Ann said. "We've done that forever."
They fondly recall their college days and walking to class each morning. Nearly every day along the path, the young married couple encountered former school president George T. Walker. 
They say Walker would actually wait on them.
"He'd want to know how we were doing in class," Glen Williams said, "like a poppa would. He was such a fine gentleman. All his days, he'd recognize us."
Today they continue to enjoy a personal relationship with current ULM president Nick J. Bruno, who swaps gardening tips with Jo Ann.
"They discuss things and he's provided her a couple of ideas and things to grow plants in," Glen said. "You know, you can make contact with anybody."
The Williams say their connectivity to ULM has enriched their lives, just as they've helped others. Being able to enjoy their service as an ambassador couple has made the journey even sweeter.
"I tell people I've been there under every name we (ULM) have ever had," Glen Williams said.
"I've been through all of them, and we've got the best university right now that we've ever had. Hands down, it is the best. We're getting hit with the money, but we're still holding our head up and doing great things."
---
George T. Walker Lifetime Achievement Award: Bob Anderson

Generally speaking, Bob Anderson is no rule-breaker. But there's one rule Anderson had his problems with as a sports information director – "No cheering in the press box." 
"I didn't adhere to that one much," Anderson said recently with a chuckle.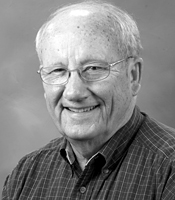 Media protocol dictates an impartial workplace, but Anderson never hid his loyalties during 33 years as ULM's sports information director. No sports reporter who ever shared the space with him escaped without hearing Anderson bang his fist on the counter or exclaim "Great Scott!" when the action stirred his emotions.

Known affectionately as "The Dean" by friends in the business, Anderson's loyalty, length of service and depth of knowledge about ULM athletics are a priceless resource for the program. To this day, he's the go-to-guy for information about the school's proud sports history.

Hired by Dr. George T. Walker as ULM's first sports information director in 1961, Anderson is now being honored with the award that bears the former university president's name.
The George T. Walker Lifetime Achievement Award recognizes those who distinguish themselves through professional and personal achievement and honors those who significantly contribute to the university and the alumni association.
"He was a great president," Anderson said. "He and Dr. Del Vines are the presidents I worked for."
Anderson put his writing skills to work to earn the job with a letter to Walker several years before his actual hire.
Then working as a sports writer at The Monroe (La.) Morning World, Anderson had a vision for a sports publicity position that didn't even exist yet.
"I wrote him a letter saying 'You ought to get one,'" he recalled. "'And I'm available.' That was four or five years before and it stayed in the file I guess."
Anderson could have never imagined his career would span 33 years (the longest tenure of anyone in the athletics department) include employment as an assistant professor of journalism for the same length of time ("I didn't have to do that but I really enjoyed it," he said) and establish him as THE ULM sports authority.
A Mississippi native with a bachelor's and master's degrees in journalism from LSU, Anderson has now spent more than 50 years as a sports writer, publicist -- and fan of ULM.
"It was surprising," he said. "I didn't have a career goal in mind when I did it. I was just happy here."
Anderson enjoyed a decorated career at ULM that earned him a number of awards for his media guides, previews and press releases. He entered ULM's Sports Hall of Fame in 1999 and his 2003 book "Indian Territory: The Story of ULM Athletics" is the definitive history of the program. 
"When you retire, you look for things to do and I'd always wanted to do that," Anderson said of his book. "It was a good story. When I came in the early years of the university, athletics were poor. We didn't have much to brag about. When we won the national championship (in 1987), I said, 'There's a rags to riches story.'"
Anderson's work is appreciated outside university circles too. Anderson earned the Mac Russo Award from the Louisiana Sports Writers Association for Progress and Ideals in 1992, the LSWA Distinguished Service Award in Sports Journalism in 1994, Mr. Louisiana Basketball from the Louisiana Association of Basketball Coaches in 1997 and was the first SID inducted in the Southland Conference Hall of Honor in 2002.
Later he worked for Congressman John Cooksey, including four years as press secretary.
As Anderson chronicled ULM sports over the years, a theme emerged of the underdog over-achiever. He believes that is what makes the success stories along the way so compelling.
Even today, Anderson finds himself swelling with pride when the Warhawks accomplish something special, as they did during the 2012 football season.
"The win over Arkansas," he marveled, "We got so much national publicity."
Successful sports information directors have a knack for getting publicity for their schools and Anderson's longevity helped him develop strong relationships externally that furthered the cause.
"That's a key thing and being at the same place a long time helps you," Anderson said. "I knew the various All-America selectors; I had the contacts with them."
 ULM's history-makers in athletics owe a debt to Anderson, who made sure their accomplishments were not overlooked then -- or forgotten as time went on. 
 "There was John Pennel, when he cleared 17 feet as a pole-vaulter," Anderson said. "Of course track back when I first started was the big sport. We had lots to talk about on that.
"Former basketball coaches Lenny Fant and Mike Vining were a lot alike and that was fun. We might not have had a good football team some years, but we had good basketball."
Football, even during tough times, was the primary sport that Anderson oversaw.
"You had to devote a lot of time to football," he said. "It was fun, even when you didn't win much. But you usually had some good players to write about."
Anderson believes the program turned the corner in the 1970s when it hired former Heisman Trophy winner John David Crow as head football coach and athletics director. Crow helped pave the way for the successful 1980s that culminated with the school winning the 1987 Division I-AA national championship under Pat Collins.

"That was the big break," Anderson said. "That was a defining event. We'd had some good teams before that, but (Crow) put us on the map nationally. We got a lot of national publicity. He was a name that helped recruiting. We jumped up and started getting more money from the booster club. That was his idea."
Anderson retired in 1994 and the Malone Stadium press box was named in his honor. He doesn't hang out there much though. No longer restricted from showing his true colors, Anderson remains a regular at athletic events along with his wife Nike.
"I watch it as a fan," Anderson said. "I sit in the stands because I like to yell."
---
Rising Young Alumnus: Tim Rightsell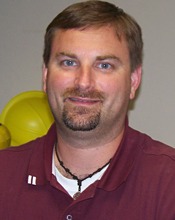 Tim Rightsell's connection to ULM has grown even stronger since finishing his undergraduate studies in 1997.
"It's funny," Rightsell said. "I'm much more involved now than when I was in school."
Selected as ULM's Rising Young Alumnus for 2013, Rightsell is now driven to help build support for his university. Rightsell represents Ouachita Parish on the ULM Alumni Board, is a fixture at athletic events and sports his school colors every chance he gets.
"You see all these people who went to the school that don't realize the hidden gem that we are," he said. "You spend your money to go to school here, you should continue to support where you went.
He added, "It's that whole 'Dance with the girl that brought you.'"
The Rising Young Alumni award recognizes a ULM graduate under 40 who is dedicated to helping advance the university's efforts in the community and on campus.
"Tim's just a great guy and bleeds maroon and gold," director of alumni affairs Devin Girod said.
"He volunteers, gives, and represents ULM on social media and the community. I recently saw Tim with his kids at Brookshire's. Tim and his kids were covered in ULM apparel showing his passion will be passed along. We need that because the culture carries with the next generation."
That's Rightsell in a nutshell.
"Any chance I get, I have ULM gear on," Rightsell said.
"You will never see me in an LSU shirt. I wear my ULM stuff where ever I go. I have the stickers on the car, the license plate, the hats, t-shirts, whatever. That's my school and that's who I want to represent. That's who I want people to associate me with."
This year Rightsell joined in a team competition to push football season tickets and was the top individual seller. The winning effort earned him a trip with the team to ULM's season-opener at Oklahoma. 
"I didn't even know it was a contest," he said. "I was just doing my part to help."
Rightsell, 38, earned his BBA in management in 1997 and quickly began his ascension at JPMorgan Chase. Recently promoted to a vice president position, he's been with the company for 16 years. Rightsell represents his alma mater on the job too.
"At work, we've done a lot of incentives and purchased tickets to give away," he said.
"I've kind of been known as 'the ULM guy.' Anytime we've ever done anything associated with ULM, I'm the one who gets volunteered for it."
Rightsell isn't hard to locate during ULM baseball season, where he is a regular in the raucous "Left Field Lounge" area behind third base. Rightsell, along with his brother Chris and other buddies are a big part of the festive atmosphere at Warhawk Field.
"We make it a friend and family event," said Rightsell, a 1993 Neville High School graduate.
"All the baseball games, all the football games, it's the same core group of people. We use that as a common thread with all of us."
Sports are often called the front porch of a university and supporting the baseball program was a big part of what brought Rightsell back into the fold.
"One weekend Chris and I decided to go to a ULM baseball game and got hooked," he said.
"That kind of started my ULM pride and made me realize it was something I wanted to hang my hat on and support."
A doting father of two, Alex and Emory, Rightsell is also involved with the Monroe Jaycees where he has served as Membership Vice President and two terms as Treasurer.
Rightsell is also is a past Ambassador for the Monroe Chamber of Commerce.
---
Alumni Chapter of The Year: Baton Rouge
Louisiana's state capitol has a growing pocket of University of Louisiana at Monroe supporters and it's no fluke.
The Baton Rouge Chapter of the ULM Alumni Association has worked hard to help reconnect graduates with their university.
"I drove down to meet with the Baton Rouge chapter a few weeks after I was hired. They have a great core group working towards an endowed scholarship through their annual golf tournament," ULM director of alumni affairs Devin Girod said.
"The participation has increased each year and I expect the trend to continue. We are thankful for chapters like Baton Rouge who are helping our students and supporting the alumni association so we can return the support through the events held in their region."
The ULM Alumni Association is honoring its Baton Rouge branch as the Chapter of the Year, thanks to an active membership in the region, involvement of the president in annual meetings and well-attended events.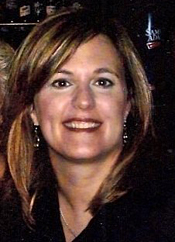 "We probably have 40 or 50 active members that I keep in touch with over the course of the year who want to be involved in some of the other functions," said Lisa Lester Bergeron, president of the Greater Baton Rouge Alumni Chapter.  "We always have a good turnout at the functions that we do.
The Baton Rouge Chapter plays host to a Monday night function each May, as well as a Johnny's Pizza party every July.
"We have a good turnout for both of those," Bergeron said.
"The one on Monday night, we usually have 125 to 150 people coming. There are usually 30 to 40 people who come to the Johnny's Pizza party too."
Additionally, the chapter hosts a golf tournament, with proceeds used to endow a scholarship for students from the Greater Baton Rouge area to attend ULM.
"I believe we've really taken off with our money that we've raised over the past two years, faster than some of them have done," Bergeron said.
Bergeron, a Program Manager for the Office of Community Development in Baton Rouge, was active during her college years.
While a student at ULM, Bergeron was a member of the Pompom Girls, Social Chairman of the Alpha Omicron Pi Sorority, and a Little Sister to the Pike Fraternity.
"I think people forget that we're successful individuals because of the base of people we met and networked with at ULM," said Bergeron, an Oak Grove native.
"For me it came full circle. I ended up working for a guy and his wife who graduated from (ULM) and I knew them in college."
---
Service Award: Chris Ringo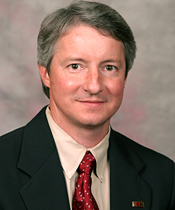 Chris Ringo is known around ULM's campus as a guy you can count on.
The assistant director for the physical plant takes pride in that reputation, earned over 22 years of employment at the University of Louisiana at Monroe.
"I've always had this service attitude," Ringo said.
"I'm here to serve. If I don't know how to get it done, I probably know somebody who does. I guess people feel comfortable calling me when they don't know who to call. I never back down from trying to help somebody get done what they need to get done."
Fittingly, Ringo is recognized this year with the ULM Service Award by the ULM Alumni Association.
"Chris and the other guys at the physical plant are greatly appreciated," director of alumni affairs Devin Girod said.
"Before everyone arrives to an event and long after they have left, these are the guys setting up and taking down. We are thankful to have assets like Chris here at ULM."
Candidates for the Service Award must be a full-time staff member with three consecutive years of service at ULM. Criteria includes contributing to the betterment of ULM and the community through extraordinary service, as well as service to profit, public or non-profit organizations that help the community served by ULM.
That's Ringo, who is always stepping forward. Not only is he a former president of the staff senate, he helped establish the body.
"I was one of the inaugural members in setting it up and forming it," Ringo said.
"I was the president for one year.  The reason the staff senate was formed was to give a voice to the unclassified staff on campus. We became a liaison between the staff in general and the administration. It opened up a line of communication for the staff to communicate about things going on."
Ringo's service extends beyond ULM's campus borders. He is involved in the United Way of Northeast Louisiana and does volunteer work for the Ronald McDonald House.
A Monroe and Ouachita Parish High School product, Ringo attended ULM before earning a two-year technical degree in computer electronics. Ringo was originally hired as an electronics technician doing maintenance and repair of computer systems. He eventually became the manager of that department.
In his current position over the past few years, Ringo has been part of an energy-saving initiative on campus.
"We've embarked on some upgrades to our lighting for energy efficiency and we've done some things on our air conditioning and heating controls," he said.
"I was not the project leader, but I was intimately involved. One of the things I do on a daily basis is monitoring our utility usage. I could see things during this project that were positive. "