Published October 31, 2013
The Dental Hygiene Program at the University of Louisiana at Monroe recently received its third grant from Entergy to support the ULM Mobile Dental Hygiene Unit.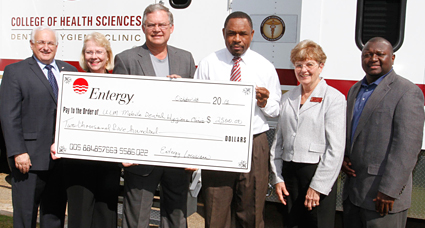 Entergy previously donated $2,000 in January 2012 and $2,500 in August 2012. 
"This (check) is a blessing and helps us to continue our efforts through the mobile dental hygiene unit," said Beverly Jarrell, founder and head of the ULM Dental Hygiene Program.
"Without this help, we would be looking for funds to cover the cost of giving needed items such as toothpaste, toothbrushes, and dental floss."
The funds—presented by Jeff Aycock, regional manager of Entergy—will support the provision of services to patients who utilize the mobile dental hygiene unit in the parishes of northeast Louisiana.
Jordan Anderson, coordinator of ULM's Mobile Dental Hygiene Unit said, "We appreciate the support from Entergy. Without these types of donations, the ULM students couldn't provide the basics (for dental hygiene)."
Currently, the Mobile Dental Hygiene Unit resides at Riverbend Elementary School in West Monroe.
The Dental Hygiene Clinic at ULM was opened in 1972 with 10 operatories.
The clinic now has 17 operatories.  There are also three operatories at Riser Elementary and Middle School, and three in the mobile dental hygiene unit.
More than 2,000 patients receive dental hygiene care in ULM's three clinics.
Supervised by faculty who are licensed Dental Hygienists, students provide teeth cleaning, x-rays, fluoride treatments, sealants, oral cancer screenings, patient education, and nutritional information.