Published November 12, 2013
For Dr. Allison Wiedemeier— an assistant professor of biology at the University of Louisiana at Monroe—excellence through education has become a standard, and after winning her second teaching award this year, Wiedemeier is poised to become a leader in progressive classroom techniques.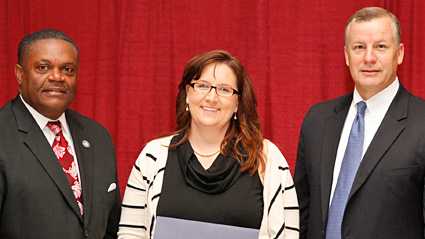 Wiedemeier's most recent accomplishment came at the annual Accent on Excellence ceremony, where she was named as an Outstanding Educator in Ouachita Parish.
"I am honored to be recognized as one of many top educators in the region," she said.
"ULM has many outstanding teachers and I am humbled to have been chosen by my peers to represent ULM this year."
In early August, Wiedemeier was nominated for—and won—ULM's Foundation Award for Excellence in Teaching.
Wiedemeier was commended for the "energy and organization" she brought to her classroom, and for the use of "a diverse set of techniques ranging from traditional lecturing to small group discussions and innovative activities meant to promote learning."
A main focus of Wiedemeier's teaching style is interaction with her students.
"…Many students say the class is rigorous, tough, and thorough," she said.
"I would agree with that assessment. I run a very active classroom environment. I utilize many active learning techniques from clickers, to think-pair-shares, to demonstrations and even skits.  When I walk into the classroom the first day of class, I tell students that they will need to actively participate with the material in order to succeed in the class."
Wiedemeier has assisted numerous students in their educational endeavors including presentations and research initiatives.
She is also a director of the popular community resource—the Bayou Discovery summer camp—which attracts children of all ages interested in biology, physics, chemistry, anatomy, and forensics.
When asked about her educational philosophy, Wiedemeier said, "I believe that for a student to learn material, they must be able to use that material in applied situations.  I also believe my role as an educator is to help students develop the skills to learn how to apply knowledge.  I provide them with concepts and then ask them to use those concepts, either on applied questions for exams, or even in group activities in class."
"I have three main goals when I teach," Wiedemeier continued.
"I hope my enthusiasm in the classroom imparts a love of my subject matter, I wish to prepare students for their next educational step, and selfishly, I want to learn something myself.  I consider myself very lucky to meet and interact with students on a daily basis.  Each class has a different personality, each student brings something unique to that class, and through those differences, I learn something about myself, my teaching, or even my subject matter each semester."  
She attributes much of her success to her supportive foundation.
She said, "[I define success by] living a life surrounded by supportive friends and family, while professionally doing something I love and enjoy, and through that profession, impacting the lives of others in a positive manner. 
Her dedication to her students, coworkers, the university, and the surrounding community have been noted as some of her greatest strengths.
Her former students view her as a pivotal piece to their own successes, and her colleagues continually praise her efficiency and ability to fine-tune her teaching to meet the growing needs of students.
Wiedemeier began teaching at ULM in the fall of 2006.
She earned a B.S. in biology from Drake University and a Ph.D. in biology from the University of Missouri.