Published November 14, 2013
University of Louisiana at Monroe associate professor of communication, Dr. Bette J. Kauffman, recently traveled to her alma mater, the University of Pennsylvania, to attend the opening of an exhibit where her now famous post-Katrina photography is displayed.
"WATERLINE: make levees, not war," is featured at the Burrison Gallery in Pennsylvania.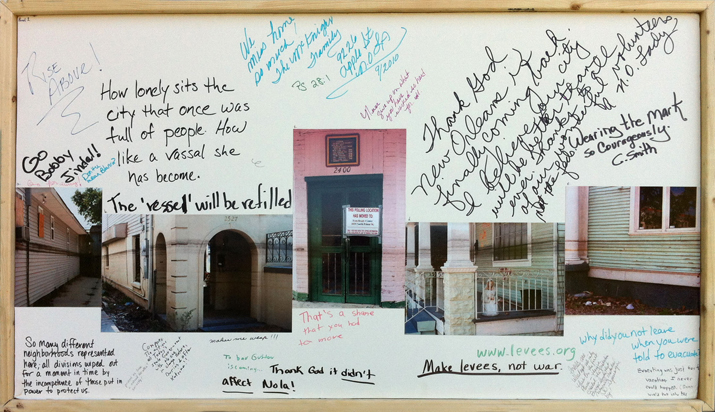 "Many people at the opening reception wanted to know more about the WATERLINE project and how it came about, but I was most moved by a couple from New England who saw it as relevant to their experience of tropical storm Sandy," said Kauffman of her reaction to being featured in the exhibition.
"When my photography helps other people understand the world and tell their own stories, I have succeeded as an artist and communicator."
Kauffman's photo submission was accepted for the juried alumni art show at the University of Pennsylvania and will be on exhibition from Nov. 8-Dec. 20.
"WATERLINE: an interactive photo installation" is a collection of photographs Kauffman took throughout the city of New Orleans between April 1, and June 10, 2006. 
The photographs are mounted on white foam core panels with only the water line in each photo aligned. 
The installation is interactive and pens are available for visitors to record responses on the foam core above and below the photographs. 
"The interactive aspect of the installation reflects my desire to inspire debate and discussion about the events surrounding Hurricane Katrina," said Kauffman of the unique element of her installation.
Kauffman retired the first of the many panels recently after it was exhibited 11 times in various cities throughout Louisiana. 
As the piece traveled through Louisiana, it accumulated what Kauffman called, written "expressions of passion, anger, hope and faith."
She adds, "I began photographing the waterline in the city of New Orleans because it spoke powerfully to me of the devastation of a wonderful and irreplaceable city."
A poster of the first panel, as well as individually framed sequences of three or five photographs from the "WATERLINE" collection have been printed and can be purchased at katrinawaterline.com
Kauffman earned a Bachelor of Arts in Journalism from the University of Iowa, and a Master of Arts in Communication and Ph.D. in Communication from the University of Pennsylvania. 
She has professional experience in documentary photography, videography, journalism, and public relations. Kauffman has taught at ULM for almost 17 years. She grew up in Kalona, Iowa.
More about "WATERLINE:"
WATERLINE won first place in the Multi-Media Division at Art with a View, Nov. 15, 2012.
A video about the photo installation titled "WATERLINE (2009)," produced by Alicia Gholar, was presented, and "WATERLINE: an interactive photo installation" was named the third Top Creative Project by the Visual Communication Division of the Association for Education in Journalism and Mass Communications, Denver, Colo., Aug. 11, 2010.
"WATERLINE: an interactive photo installation as catalyst in processing disaster," was presented at Hawaii University International Conferences on Arts & Humanities, in January 2012.
"Asking Visually: Constructing Community and Identity in the Aftermath of Hurricane Katrina," a presentation about "WATERLINE", was made at the fifth International Conference on the Arts in Society, Sydney, Australia, July 23, 2010.
"WATERLINE" exhibit history:
Art with a View, Premier Tower, Monroe, Dec. 14 – 31, 2006
Joe W. Brown Memorial Chapel, Grace Episcopal Church, New Orleans, Aug. 29 – Dec. 31, 2007
Coolspace @ Artspace, Shreveport, Aug. 28 – Oct. 18, 2008
Starbucks 2008 Leadership Conference, Morial Convention Center, New Orleans, Oct. 24-30, 2008
Art with a View, Premier Tower, Monroe, Dec. 12 – 31, 2008
Art with a View, Premier Tower, Monroe, Dec. 10 – 22, 2009
Louisiana State Archives, Baton Rouge, Aug. 12 – Sept. 30, 2010
Holzhauer Gallery, Northwest Florida State College, Niceville, Fla., Sept. 3 – Oct. 10, 2010
Art with a View, Premier Tower, Monroe, Dec. 9-16, 2010
Eby Annex, St. Alban's Episcopal Church, Monroe, March 9 – May 1, 2011
The Big Room Gallery, Monroe, August 4 – September 4, 2011
Art with a View, Premier Tower, Monroe, Nov. 15-17, 2012
Northminster Baptist Church, Monroe, Feb. 11 – Mar. 26, 2013