Published November 18, 2013
Graduating students within the University of Louisiana at Monroe's Speech-Language Pathology (SLP) masters degree program earned yet another 100 percent passage rate on the fall 2013 Praxis exit exam.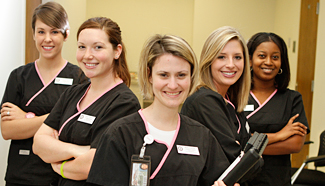 The students are set to graduate in December, marking the seventh consecutive semester of perfect scores for the program.
According to Dr. Johanna Boult, head of the SLP program, "The Praxis is the professional-level exam, much like other professions' 'boards,' that allows for entry into the profession.  This accomplishment is one element that allows graduates to obtain both national certification through the American Speech-Language-Hearing Association (ASHA) and state licensure."
According to the ASHA, the national passage rate for first time test-takers is 86.4 percent.
"This makes three and a half years that ULM SLP students have achieved a perfect Praxis pass rate," Boult continued.
"These students are ready to transition into the profession, which highlights their dedication to their studies and our faculty's dedication to prepare them to exceed standards."
ULM's Department of Speech-Language Pathology is accredited by the Council of Academic Programs in Communication Sciences and Disorders of the American Speech-Language Hearing Association.
The department also facilitates the Kitty DeGree Speech and Hearing Center, which serves individuals with deficits in the areas of articulation, language, voice, fluency, swallowing, and hearing.
The center is housed on the first floor of Sugar Hall on the ULM campus.
Designed as a state-of-the art facility, the Kitty DeGree Speech and Hearing Center serves clients of all ages in either the Speech-Language Pathology Clinic or the Audiology Clinic.
Enhanced by individual observation rooms for each therapy room, a large group therapy room, a research lab, and a student clinical preparation room, the speech-language pathology tradition of excellence in service and student education was established at ULM more than 40 years ago.