Published November 21, 2013
KEDM Public Radio, 90.3 FM—housed at the University of Louisiana at Monroe—is one of 26 National Public Radio (NPR) member stations selected to participate in a pilot program to demonstrate the delivery of emergency alerts to people who are deaf or hard-of-hearing in the Gulf Coast states.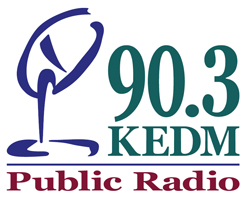 "We are thrilled to participate in this very important project to ensure that everyone in our broadcast area has equal access to emergency alerts and potential life-saving information in times of crisis," said Jay Curtis, General Manager of KEDM.
"One of the central missions of public radio is to serve and inform our audiences, and our participation in this project is just one example of how we are working to accomplish this goal."
The initiative is a joint effort with NPR Labs, the technology research and development group of NPR, under a grant from the U.S. Department of Homeland Security (DHS). 
The pilot project represents the first effort to deliver real-time, accessibility-targeted emergency messages, such as weather alerts, via radio broadcast texts.
Stations in Alabama, Florida, Louisiana, Mississippi and Texas will participate in the pilot with NPR Labs. Each station will transmit emergency alerts to deaf or hard-of-hearing volunteers in its listening area to gauge how effectively the messages are being sent and received. 
The participating NPR Member stations  in Louisiana include:  KDAQ, Shreveport; KEDM, Monroe; WWNO, New Orleans; WRKF, Baton Rouge; and KRVS, Lafayette.
"This is a crucial first step in this very important project," said Mike Starling, Executive Director, Technology Research Center and NPR Labs.
"I want to sincerely thank KEDM for volunteering to participate in a project that will demonstrate that all individuals, including those who are deaf or hard-of-hearing, can stay informed in emergencies when electricity, Internet and other communications channels are unavailable."
In the demonstration project, NPR will transmit emergency alert messages through the Federal Emergency Management Agency's Integrated Public Alerting Warning System (IPAWS) to the Public Radio Satellite System (PRSS) in Washington, D.C., using the Common Alerting Protocol (CAP).
About KEDM:
KEDM Public Radio is operated by the University of Louisiana at Monroe and relies on funding from listeners, local businesses, and the Corporation for Public Broadcasting to pay for its annual operating expenses.
For more information, please visit kedm.org
The PRSS network operations center will then transmit the warning to the participating 25 public radio stations via the Radio Broadcast Data System (RBDS) on a dedicated channel.
The stations will broadcast the emergency alert to specially designed radio receivers capable of displaying text messages.
Deaf or hard-of-hearing project volunteers will be alerted to the message by a flashing indicator on those radios or a bed-shaker attached to and triggered by those radios, to ensure the message is received day and night.
The Gulf State region was selected as the location for the new emergency alert system because it is frequently subjected to extreme and sudden weather conditions.
Public radio stations, served by the PRSS, reach more than 95 percent of the U.S. population.
The next step in the project will be for NPR Labs to work with KEDM to assist in identifying individuals who are deaf or hard-of-hearing in the listening areas of the 26 participating stations.
These volunteers will be surveyed throughout the pilot program to determine how effectively the test messages are being received.