Published November 25, 2013
Officials in the English Department at the University of Louisiana at Monroe honored the winners of the Freshman Essay Contest during a special ceremony at the ULM Library.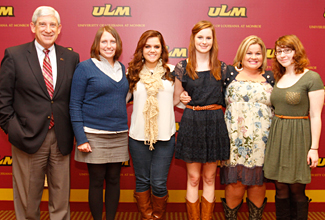 The essay contest is held in conjunction with ULM's Summer Reading program, which is designed to introduce first-year students to intellectual exchange at ULM.
This year, freshmen wrote essays based on selections from National Public Radio's (NPR) "This I Believe."
Anastasia Hanson, an English major from Monroe, won first place and $250 for her essay titled "The Monster at Camp."
The story reflected on an experience at the Dachau concentration camp, and Hanson's view on the monstrosities that impacted a generation. Hanson's instructor is Meredith McKinnie.
Janai Martin, a pre-radiologic technology major from Pineville, won second place and $150 for her essay titled "Candy Apple Red."
Martin's story reflected on her personal experience at a nursing home, where nail polish color gave her and a feisty elderly woman confidence and a zest for living in the moment. Martin's instructor is Nichole Smith.
Molly Price, an elementary education and special education major from West Monroe, won third place and $100 for her untitled essay about her struggle with showing emotion when seeing her post-chemo grandfather for the first time.
She recalled how she was able to cope with his condition, and expanded on the love she bore for him. Price's instructor is Meredith McKinnie.
This I Believe is an international organization engaging people in writing and sharing essays describing the core values that guide their daily lives. Over 100,000 of these essays, written by people from all walks of life, are archived on the NPR website, heard on public radio, chronicled through NPR's books, and featured in weekly podcasts.
The project is based on the popular 1950s radio series of the same name hosted by Edward R. Murrow.
For more information on This I Believe, visit www.thisibelieve.org
For more information on ULM's Summer Reading Program, visit www.ulm.edu/summerreading